Pixotope Snapshot is our series shining a light on the many talented individuals that make the Pixotope team so great – a group of industry experts with vast experience in virtual production. In this edition, we sat down with Pixotope Product Specialist Espen Ervik, to discuss his career and role at Pixotope.

Tell us about your career and background leading up to Pixotope?
It is still early days in my career; therefore, my background is quite varied. While studying 3D Graphics at Westerdals (Now Høyskolen Kristiania), I spent some time as a security guard - think Mall Cop! Then, later in my studies, I worked at the Norwegian Defence Research Institute working on a simulator, which soldiers and officers used for training. This included making 3D models of vehicles/tanks and such. It was a really enjoyable job, and I met a lot of very smart, interesting people there. Towards the end of my degree, real-time graphics started to get my attention, and I spent my final months making a short movie in Unreal Engine as a study of how real-time graphics could potentially (certainly!) change the film and visualization industry.
After my final exam, Pixotope offered me a trainee position. I obviously said yes, and I was very happy with going straight from studies into a career path I was passionate about. I worked hard as a trainee for five months and ended up in a full-time position. Now, I'm two years in and I love it.
What's your favorite part about your role at Pixotope? Tell us about your most enjoyable recent projects.
As a Product Specialist in the Customer Success team, I work closely with Pixotope users to ensure productions across the globe go as smoothly as possible. In the Customer Success team, we get to wrap our heads around a bunch of different Virtual Production problems. Working in Virtual Production does come with its challenges, but it's rewarding to see the end result of a successful production on the other side of the planet.
Virtual Production is still a relatively new concept. Even as specialists, we continuously run into new problems which we have never encountered before, and it's a lot of fun when you finally figure out what is going wrong.
As the first point of contact to a lot of users, we also need to know who to talk to in the Pixotope team, as no one knows everything about this extensive trade. There are so many things that need to "click" for a Virtual Production to go down successfully. So a big part of the job is to soak up information about certain subjects from others in the team so that I can help our users. Especially the engineering team, with their extensive knowledge, has saved me countless times!
I got the opportunity to travel to Shanghai and Nanjing for two months to work on a production. with four colleagues. The trip presented me with some challenges - it was my first time being on-site at a Virtual Production, abroad - and I learned so much from collaborating with the China team and working through all the problems we encountered. The end result was a successful production and an overall great learning experience!
Why do you think Virtual Production is booming, and what do you think the future holds for the industry?
We are at a point where creators can get close to the same graphical quality that could only previously be achieved by setting aside hours, if not days, of rendering. Working in real-time adds so much to the creative process: being able to actually see what you are producing, in all its glory, is a huge advantage both for creativity and efficiency.
We now have tools like Pixotope that make Virtual Productions easier to execute and are making it as available to regular users as possible. Virtual Production is so much more accessible to the average user today…even compared to when I arrived at Pixotope only two years ago!
The future is virtual in every aspect, it seems inevitable that the TV and film industry can only go in one direction, and that is to bring more Virtual Production into their productions. Again, just comparing the last two years which I've been in this industry, the level our users are producing at is growing rapidly, as they find new and innovative ways to utilize the possibilities Pixotope provides. And I can't see it slowing down anytime soon.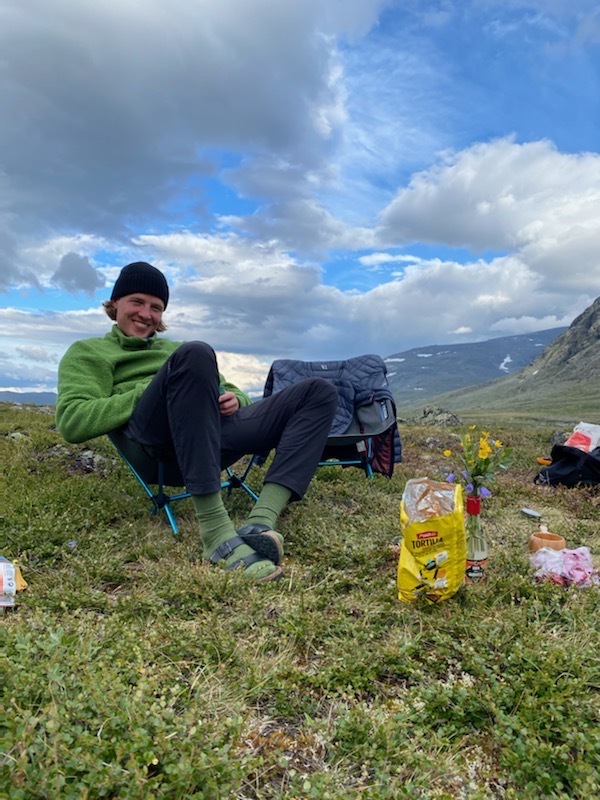 What essential skills should students be gaining if they want to work in Virtual Production?
The most obvious one is to gain experience in working with real-time software, a game engine. I would recommend Unreal Engine or Unity. There seems to be a big lack of people with that kind of expertise in the industry. So, I think that the Virtual Production industry could be a big, untapped market for students eager to get a job. Judging by my own experience, it is quite daunting to enter the world of Virtual Production, eg. after a general 3D education. There were a lot of technical aspects I had never heard of and had to learn from scratch. Virtual Production is still in its early days, and a lot of schools might seem to have overlooked this rapidly growing field.
I also think having some basic understanding of TV broadcasting and the tech behind a Virtual Production is something that would have helped me a lot in getting the hang of things faster. So, having the creative basics as a base and then building some knowledge of the more technical aspects on top is a big advantage.
Do you have any advice for starting a career in Virtual Production?
Through my education, I tried to say yes to as many things as possible and I tried to take the opportunities that were presented through the education. Specifically, for Virtual Production, having a wide base of knowledge is an advantage in my experience.
If you already find yourself in the early days of a job/internship etc. I would really recommend soaking up as much knowledge as possible from as many as possible. Even if it's through disciplines that seem far from what you actually do. In my first months here at Pixotope, I felt like that was the most important part of my job, to just soak up information. And it was a lot of work!
Finally - how do you spend your free time outside of work?
I'm from a coastal town called Molde, in the western part of Norway, where the mountains are steeper and the water bluer than here in Oslo. My parents basically raised me up outdoors. So, naturally, I soon became fascinated with the virtual world, sparking interest in 3D and gaming, which eventually ended up as my livelihood.
I really enjoy hiking in the woods or mountains, for days if I'm able to. I love running. I actually completed the Oslo marathon once! I also do a lot of biking in the woods of Oslo - alongside skiing and climbing. However, I am partial to sitting at home playing Playstation for hours. Like everyone else, I've been pulling my hair out playing Elden Ring, where I still haven't got past Godrick - but I'm unable to stop playing!