Pixotope Snapshot is our series shining a light on the many talented individuals that make the Pixotope team so great – a group of industry experts with vast experience in virtual production. In this edition, we sat down with the Regional Sales Manager in Sales and Marketing, Xiang Gao, to discuss his career and role at Pixotope.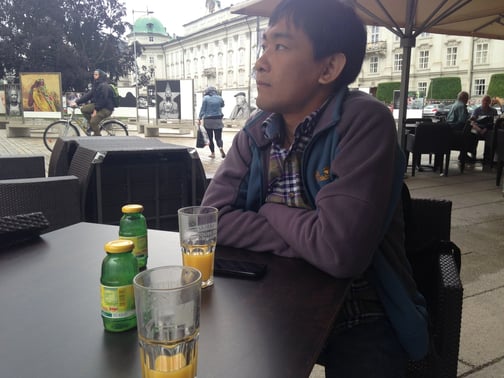 Tell us about your career and background leading up to Pixotope?
I started my career in the ergonomics industry, working with virtual simulation. During my time in this industry, I managed partnerships with distributors and resellers. A key point of learning was to treat these partnerships as if they were your customers – as a manufacturer, helping your partners to achieve their goals is the only way to success. This understanding has continued to shape the way I establish and communicate with partnerships in the Chinese market for Pixotope.
After a decade in the simulation ergonomics industry, I moved to a motion capture company in the Netherlands called Xsens. Xsens was developing quickly in the market, and the product's versatility attracted me to join the company. This brought me into the ergonomics verticals of mocap systems.
As a result of shifting my focus from ergonomics to motion capture for games and filmmaking, Pixotope came onto my radar. They were expanding further into the Chinese market, and the objective of our first meeting was to assist Pixotope through Xsens' expertise as a partner company that already had reached in China.
Later down the line, we saw a huge trend of virtual idols in China which required motion capture. This gave me some really useful exposure to the applications of virtual production, and I was keen to become more involved with this field while it was at an early stage of development. I reached out to Pixotope, and the rest is history!
How do you feel virtual production is developing in China compared to other regions? What trends have you observed recently that are unique to Chinese virtual production?
It's clear that virtual production is developing rapidly in the Chinese market. In my opinion, these developments are often overhasty; while the requirements for virtual production are growing, the skills and knowledge required in the industry are not improving as quickly. There are definitely monetary benefits to using virtual production, but these shouldn't be the sole impetus to start using VP.
There are pros and cons to this push for VP: with more people involved in virtual production, there's a good chance that skills and production quality will improve. But this will require effort and a solid drive to develop these areas across all levels of the industry.
However, Chinese entertainment is always pushing the bar in terms of new and unique productions – and this means that productions have to stay one step ahead for innovation. It's an interesting challenge, and it will be exciting to see where these opportunities for creativity will lead Pixotope in the long run.
What does your role at Pixotope entail?
My overall role is sales – I am a Regional Sales Manager in Sales and Marketing at Pixotope. However, I also focus on business development since direct sales are only one aspect of the role. Currently, we're focusing on establishing global partnerships, and searching for new sales vertical applications is a key focus for me at the minute.
Besides this, I'm also working in the educational market to set up future foundations for virtual production. Educating a new generation of VP professionals is something that Pixotope is committed to so that the field continues its momentum and keeps advancing.
Why do you think broadcasters are moving towards virtual production workflows?
The internet is a challenger to mainstream media: this is perhaps the most important factor in the rise of virtual production. This is particularly relevant in China. All broadcasting businesses – as well as education, transportation, energy, etc. – are owned by the country, and so for a long time, there was really no competition. Virtual production workflows were considered high effort, and low return, with little to be gained.
But in recent years, internet media has given a fair challenge to traditional broadcasters and TV stations. In the last 3-4 years we've seen a shift in high-tier productions, where they are forced to innovate for the sake of proving themselves.
This, in turn, has pushed many lower-tier TV stations to seek a solution; and once again, a key reason for using virtual production is to prove their capability and not be left behind. Additionally, VP offers new opportunities to attract investments in advertising.
What does the future hold for virtual production?
As with many industries, it will eventually have high-end and low-end. We've mainly been addressing high-end application in recent years, such as high-budget live events, TV shows, and virtual production studios for TV stations.
The high-end will grow in a more sturdy way. Large budget installments are usually slow, and while we're starting to see lower-tier TV stations trying out sophisticated VP, this will take a little more time to integrate fully. In the coming years, most TV stations will have a certain level of VP capability.
Low-end is perhaps more interesting, but much harder to manage. There is a wide range of potential use cases: content creation for education; online marketing and sales; streamers; VFX productions, and many more. We'll see a lot more virtual content come from outside of the broadcasting industry, which has great potential but needs further exploration and development. This is why Pixotope is starting to research applications for VP in educational spaces. We're also certain to see more independent studios producing online content, and becoming more involved with VP in the near future.
Outside of work, how do you enjoy spending your free time?
Well, I have two small kids – 6 and 2 years old – who take up a lot of my free time! I love woodworking. Before having children, every month I would create a piece of hand-made furniture using traditional hand tools and Chinese carpentry skills. Sadly, I haven't been able to do this for a couple of years.
Other than that, I'm a die-hard video game fan. I've been playing games for almost 35 years now, which is probably why I've got into businesses related to virtual entertainment! I still try to keep gaming in my life as much as possible.