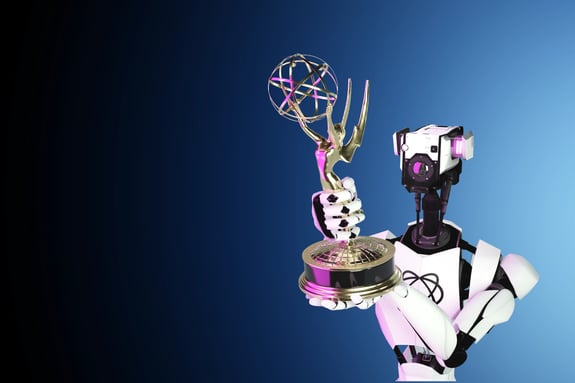 About
We are more than a software company. We are in the business of democratizing virtual production and empowering content creators with our award-winning accessible solutions that enable boundary-pushing immersive storytelling.
We are Pixotope.
We're headquartered in Oslo, Norway but our global team keeps us plugged in and available wherever, whenever our customers need support.
Award-winning
International software company
Most software solutions companies claim to be innovative, but what does that really mean? We think it's more than just the technical excellence of the product, it's about giving your team the space and tools to think outside the bounds of what's currently possible.

At Pixotope, our fantastically fun, passionate, and diverse people make our culture of openness, positivity, knowledge sharing, collaboration, and yes, innovation, possible.

We know that when you feel excited by your work and team, you're more likely to step away from the ordinary in pursuit of the extraordinary.
This mindset helps us chase our common goal together: make virtual production accessible to all media producers and have a blast while doing it.
TOUCH
Trust
We know that our teammates, partners & customers will be open with us and that we can be open with them.

Without asking, we know that our community will be there to support us, and that as a company we will do "the right thing".
TOUCH
Courage
We are not afraid to challenge ourselves and the industry.
We do not fear change. We embrace the pace and dynamic nature of our business.
We are not "followers". We are motivated by being at the forefront of what we do.
TOUCH
Fun
We enjoy everyday because of the people we get to work with, the enthusiasm we all have in common for what we do, and the kindness of the team.
TOUCH
Curiosity
We like to push the boundaries of what is thought to be possible, to know the unknown and continuously improve ourselves and our work.
TOUCH
Dedication
We believe in what we do and invest our energy into being competent, reliable and efficient. We deliver with all our ability to the utmost quality and efficiency.
Our Mission
We were founded in 2013 and since then we have been successfully blending the virtual and real worlds into an immersive experience for millions of people over the globe.
We believe Virtual Production is going mainstream and AR/XR will be the driving force in video-based media and advertising production.
Our mission is to become THE go-to virtual production platform for media creators and visionary storytellers.
TOUCH
History Of Pixotope
History Of Pixotope
What could be called our origin story began in 2013. Back then, we were known as The Future Group and we were very busy reimagining what broadcast content could be. By harnessing the power of real-time game engine technology, we saw a future where immersive and experiential storytelling was the rule, not the exception. In 2017, we put our ideas to the test when The Future Group premiered the world's first Interactive Mixed Reality game show, Lost In Time, on Discovery Networks' TV Norway.
To bring our vision to life for Lost In Time, we had to invent the solutions we needed. There just wasn't anything else in the market at that point (unless of course you're working with a Hollywood-size budget). So we invented a unique studio graphics software, mobile front, and backend technology and established a world-class service department for mixed reality production.
The learnings and deep understanding of real-time virtual production workflows that came from our experience on Lost in Time enabled us to create the Pixotope software, launching it officially in February 2019. After that, the demand for virtual productions began to skyrocket, and our Pixotope software along with it – we were on to something!
In 2021, the company officially became Pixotope and we haven't looked back since. We're very proud and humbled to say that our solutions have been used to create amazing content by the world's most prestigious brands including the NFL, League of Legends, Euro-vision, and The Weather Channel.
TOUCH
About Pixotope
About Pixotope
Dedication. Determination. Trust. Pixotope is at the forefront of democratizing virtual production and empowering content creators with accessible solutions for boundary-pushing immersive storytelling.

Having been proven on the most demanding live productions in the world, Pixotope offers media content owners and producers a reliable and sustainable Virtual Production Platform on which to build their media business.
Leveraging game engine technology, Pixotope uniquely allows media creators to tell stories with the visual impact of high-end feature films, combined with the connected and scalable nature of online content and the immersive and social experience of video games.
With global 24/7 operations and a direct presence on four continents, Pixotope is on a mission to promote accessibility, ease of use, and customer success in Virtual Production for all media creators.
TOUCH
Company Structure
Company Structure
Pixotope Technologies' majority shareholder, Eltek Holding, is a private investment company, based in Oslo, Norway.
The power supply company Eltek was established in 1973 by Alain Angelil, and Eltek ASA was listed on the Oslo Stock Exchange in 1998. This is also when Eltek Holding was established, as the holding company for Eltek ASA, controlled by the Angelil family.
Starting in the early 1990s, Eltek Holding has acquired several businesses within telecom, surveillance, software, retail, and property development in Norway and abroad, and today its portfolio of companies includes; Dynea, Enetek, Heimgard Technologies (A merger of Home Control, Jensen & Ping), Pixii, Pixotope Technologies AS and CBK.
A PIXOTOPE IN TIME
When it all started. The unique technology developed by The Future Group for the Discovery Networks' TV Norway first-of-its-kind interactive mixed reality game show, Lost in Time, laid the foundation for what would become Pixotope.
Emphasizing the company's focus on the continued development of the Pixotope technology and its mission to make virtual production accessible to all media producers, The Future Group became Pixotope.
The knowledge and expertise that the Future Group earned from working on Lost in Time enabled the team to create a formalized virtual production software offering. Pixotope was released publicly to address the rising demand in the market for more accessible virtual production solutions.
Integrating TrackMen, the leading-leading real-time 3D camera and talent tracking technology, represented a major step forward for the media industry. It created a complete virtual production platform, including graphics, camera tracking and talent tracking into a single product.