Pixotope Snapshot is our series shining a light on the many talented individuals that make the Pixotope team so great – a group of industry experts with vast experience in virtual production. In this edition, we sat down with Helen Owe, our Head of People and Culture, who is aspiring to turn Pixotope into the best workplace on earth and help people magnify their strengths. So what makes Pixotope culture so unique? Read below.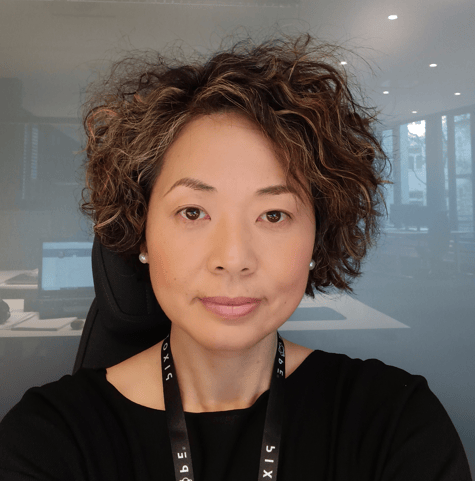 Can you tell us a bit about your background leading to Pixotope and what piqued your interest in starting a career in the Virtual Production industry?
I am originally from China, where I earned two degrees in Telecommunications and English Literature. I worked as a team leader for four years where I strengthened my management skills, leading me to pursue my career in HR.
I decided to further my education in HR management in 2009, earning a master's degree in International Human Resource Management in England. Eventually, in 2011 I moved to Norway where I have been working as an HR professional in several international companies. My most recent role before Pixotope was HR Operations Manager at krill-harvesting and biotech company Aker BioMarine. There, I was responsible for the whole employee life cycle, from onboarding to offboarding, being accountable for designing, developing, and implementing policies, processes and guidelines for launching new systems and platforms for various HR areas.

All of these laid a solid foundation for my current position as Head of People and Culture at Pixotope. The main attribute that has helped me in my work is my ability to communicate with people from different backgrounds and cultures. It is essential for remote and hybrid workforces to be able to adapt and leverage HR processes and initiatives across the globe.


Describe your role at Pixotope as Head of People and Culture – what does your average day look like?
As Head of People and Culture, my utmost goal is to build a forward-leaning organization by creating scalable, simple, smart, and user-friendly people processes and policies. I also aim to build a diverse organization with a great sense of inclusion and belonging.
At this stage, I am trying to balance short-term optimization and long-term strategy. In the meantime, I try to allocate some of my time to building structures, processes, and policies that can support our growth. In addition, I am spending time getting to know my colleagues, understanding them and their needs, as well as learning about Pixotope and the world of virtual production.
Instilling a company culture can be a challenge for global remote workplaces – how do you overcome this at Pixotope?
Connecting a remote and distributed workforce is indeed a challenge. But I would say working remotely is a part of Pixotope's DNA. We have 67 employees located in 15 different countries, and more than half of our colleagues are hired on a remote basis.I think the key lies in good information flow and open communication. We have a weekly "Town Hall" session where managers update what is happening internally. Our people managers do a great job of conducting regular check-ins with their teams.
We also regularly take part in our "Mystery Coffee" activity, where we are randomly assigned a colleague to have a virtual coffee together and get to know each other better, encouraging social interactions that connect and engage our team. We are constantly exploring and adopting more initiatives to strengthen our colleagues' connections and build our company culture.
What do you love about working at Pixotope?
I love the people here, and their spirit and attitude. When I joined, I was impressed that Pixotope already had a solid HR system in place. In fact, our CEO Marcus spent endless hours navigating HR systems to ensure everything was set up for employees! I can really see that the company values its employees and takes a people-centric approach.
How would you describe Pixotope's work culture?
I would use two words to describe the work culture in Pixotope: healthy and genuine! I am very impressed by how engaged and passionate people are in their areas of work. They are willing to go the extra mile and help each other. The Pixotope team is humble and eager for professionalism. People can be shy, but the team always tries its best to connect with each other. In this sense, Pixotope has a healthy work culture, which is also genuine as the company is doing things purely because they are the right thing to do.For example, we proudly sponsor the non-profit organization Rise, which helps women shine in the media technology sector.
In Norway, many people recognize that diversity is important. How are you trying to make sure that Pixotope culture is inclusive?
Diversity and Inclusion (D&I) have become an important topic in recent years, not only in Norway but across the rest of the world. The logic behind it is very simple: organizations are beginning to realize that it is the people who make the difference and create value.
Many organizations recognize the importance of diversity in the workplace and make efforts by actively hiring a more diverse workforce, arranging D&I days, and celebrating different cultures. This will help retain diversity and cultivate a sense of belonging and inclusion. But there's more work to be done.
My main focus is ensuring that all of our people processes, policies, and practices are inclusive while encouraging everyone to take ownership of their performance and career development. Our purpose is to enable and empower our colleagues to become the best version of themselves.
What excites you about the future of the broadcast and virtual production industry?
Virtual production is changing the way broadcasts and films are made and opens up tremendous opportunities. The future for virtual production and the scope for innovation is colossal. Technology has evolved to a point where people can make high-quality films using a mobile phone or our VP platform😊.
If you like the sound of working at Pixotope, check out our recent job openings and apply now.