We are excited to bring you a brand new release of Pixotope. In this release we have focused on:
Unreal Engine 4.26

DLSS

Blackmagic Design video card support

Multiple translucent holdouts

Carbon plugin support

Extended tracking support
This release is a bit smaller than usual as we are working hard towards our 2.0 release.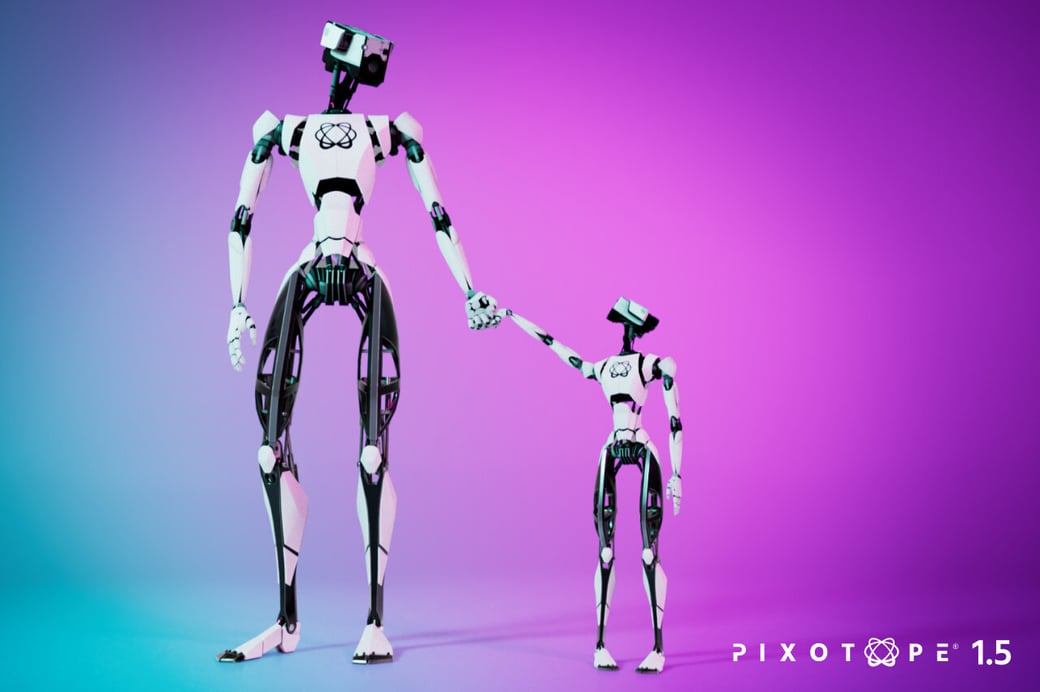 Unreal Engine 4.26
Pixotope 1.5 gives you access to the full power of the Unreal Engine 4.26.1. This release provides a massive amount of productized and experimental functionality which can be used in 1001 different ways. We are still exploring the features ourselves and we encourage you to do the same.
Some of the highlights include:
Enhanced DMX workflows

GPU Lightmass (Beta)

Movie Render Queue

Professional Codec support for Pro-Res, DNxHR and multichannel EXR

Full-body IK Node (experimental)

Hair, fur and feather rendering*

Sky, Cloud and environment lighting*

Water rendering (experimental)*
See Unreal Engine release notes for a full list of features.
For any specific concerns with features in 4.26, please reach out to discuss further through your sales or support representative.
DLSS
As a late-breaking feature, we have included the DLSS plug-in from Nvidia to improve performance when rendering high resolution tracked cameras in virtual environments. DLSS is currently in "experimental" status and tests and evaluations are ongoing.*
Blackmagic Design video card support
Blackmagic video cards are now supported in "experimental" status, with support for progressive video modes and frame rates, genlock, system audio output and LTC operation.
Support for interlaced operation will be available in a subsequent release. Testing to date has focussed on the Decklink 8K Pro card, but other cards will be tested in due course.
Multiple translucent holdouts
Multiple translucent holdouts are now fully supported including overlapping the translucent areas. This is particularly useful when setting up AR holdouts for XR stages.
Carbon plugin support
We have tested and evaluated the Carbon plug-in from Imaginary Labs Inc. within Pixotope, supporting a whole range of DMX lighting fixtures and models to create fully controlled virtual lights.
Extended tracking support
After supporting aspect ratio changes in the Stype HF 1.1 protocol in the last release, we continue to extend our support for tracking solutions.
This release adds support for the "fake aspect ratio" adjustments in Trackmen X-Cito 1.2.
XR Support in Pixotope
We are pleased to continue the period of free access to the XR toolset with Pixotope Live for the duration of the 1.5 release and in advance of the release of our full Pixotope XR version.
* Please check out Known bugs and limitations 1.5 at support.pixotope.com
NOTE: Upgrading Pixotope to 1.5.0
As ever, we would not recommend that you upgrade your Pixotope machines in the middle of a production or pre-production phase. This is particularly important as this release upgrades the Unreal Engine version to 4.26.
When choosing to upgrade, we recommend that you backup your existing Pixotope projects, so that you are able to go backwards if you need to.
Take your time to explore the new version, well ahead of a critical production crunch deadline. We are always happy to explain the new features if the documentation and demo projects don't provide everything you need.
That said, we are really excited for you to get your hands on Pixotope 1.5 and to share your experiences with us.
For a complete changelog go to login.pixotope.com
We are always happy to explain the new features in a private demo.
Request a demo