RAI Convention Centre
Amsterdam
IMMERSE YOURSELF IN A NEW ERA OF VIRTUAL EXPERIENCES
The world expects immersive experiences as virtual productions are increasingly used in live sports, events, games, and entertainment.
Our team is excited to introduce you at this year's IBC to our latest software solutions and technologies that allow you to effortlessly create immersive virtual environments.
At Pixotope, we are proud to showcase our commitment to expanding the broadcast industry, as evidenced by our remarkable advancements in virtual production.
STEP INTO THE FUTURE OF VIRTUAL PRODUCTION WITH PIXOTOPE
Don't miss this opportunity to experience first-hand the power of Pixotope. Visit our booth 6.A16 and explore the future of virtual production with us. See for yourself the ease, creativity, and possibilities Pixotope offers that will take your productions to new dimensions.
We can't wait to show you what's possible!
INTRODUCING PIXOTOPE LIVE CONTROLLER
At this year's IBC we will be debuting our Pixotope Live Controller: the all-in-one solution for graphics control in broadcast virtual production workflows.
From now on, any broadcaster, big or small, can seamlessly integrate virtual production without the need for complex engineering teams.
Whether it's for sports, news, or pure overlays, Pixotope Live Controller is your all-in-one solution for broadcast graphics, saving you time, money, and manpower.

With our Live Controller, you can:

✓ Harness the power of stunning Unreal Engine graphics and access unlimited creative freedom
✓ Easily create templates, mix and match them, and reuse templates again and again
✓ Build playlists to streamline your creative process
✓ Access everything you need in a web-based, centralized hub
✓ Elevate your storytelling game and captivate your audience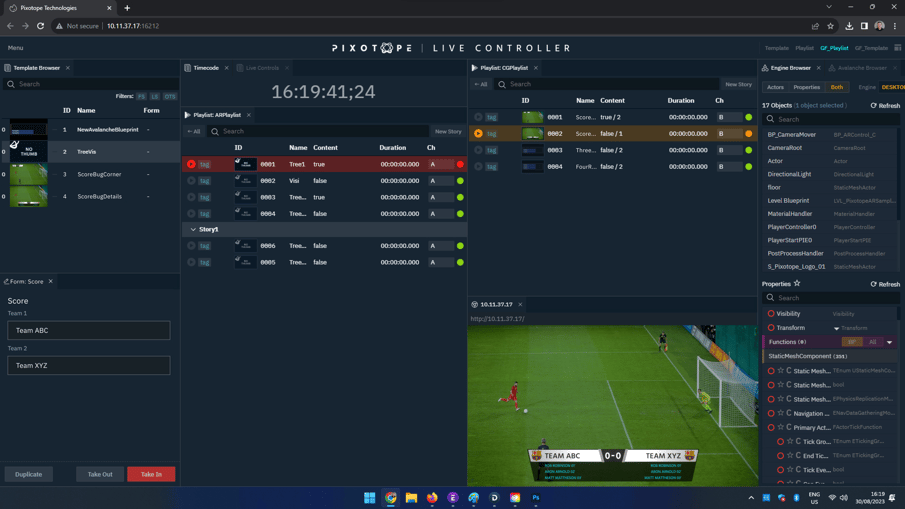 CLAIM YOUR PASS WITH OUR INVITATION CODE
Snag your guest pass to the IBC Show using invitation code IBC7704
The future of virtual production is calling, and we're excited to have you join us.
Swing by our booth to get up close and personal with Pixotope game-changing potential.
Can't wait to see you there!
Meet us on the showfloor I
Book a private demo