It's a little cliched, but since our first virtual production pipeline, Pixotope 1.0, was shown for the first time at NAB2019, the only constant has been a change. It's perhaps no coincidence that the content that's best served by virtual production solutions is blowing up too. From episodic and VFX-heavy films and TV to sports, the real-time virtual production systems have left the experimental stage and entered the age of acceptance and trust.
What does that mean for content creators? Simply, the tech is so good now that it's enabling more ways to tell your stories than ever before. And we're excited to meet up with friends and colleagues at NAB2022 to discuss just how good it's gotten.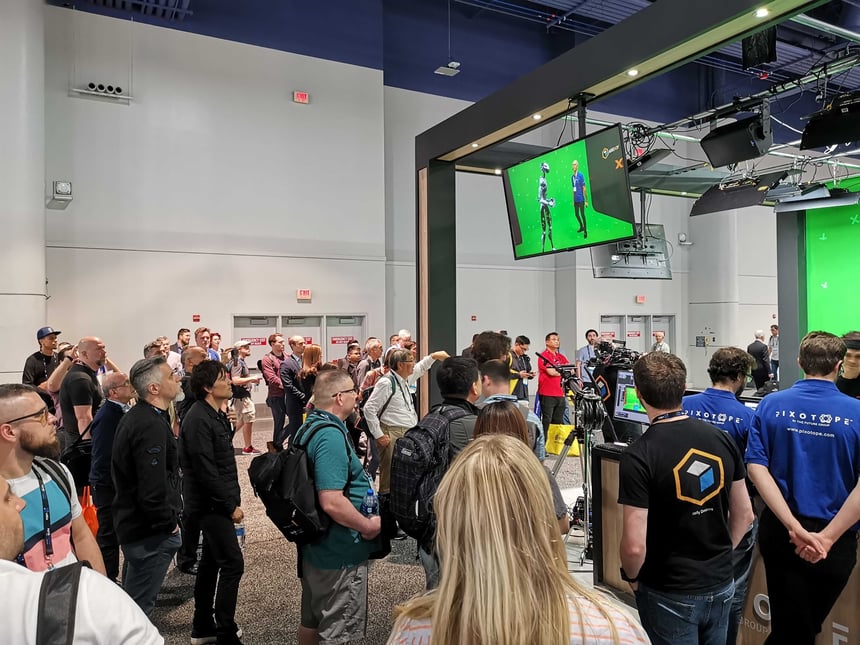 1. It's Far More Accessible
There's still plenty to figure out about virtual production software. Still, Pixotope, along with several other vendors, is on a steep growth and user-friendliness curve that is bringing costs and accessibility down. Big picture, this means that filmmaking has more iterative creative potential: media producers can explore ideas a lot faster with intuition and a powerful creative vision, making the end result much better. Content can be created entirely on a single virtual production stage for every location. So why wait all day for a limited window of golden hour light when you can program your LED wall and have it for an entire day?
The evolution of Virtual Production, particularly Pixotope's solution, includes consolidation of overhead on production. When you consider the reduced hardware and material costs (digitally-created sets and props reduce material waste), reduced power consumption, and reduced travel costs, it's easy to see how virtual production can passively save productions a lot of money. But don't take our word for it, the major networks are privvy to the savings too. For example, the FX limited budget cable series, "Snowfall," now in its fifth season, adopted virtual production and as a result saves up to $49,000 an episode ($490,000 a season) by reducing transportation man-hours, shooting time, and crew loads.
2. The Capabilities We Want are Here Now
The pieces (cloud computing, global workforce, digitized pipeline) were all there in 2019. The evolution has been a matter of connecting them. But simply possessing the tools to pull off the mind-bending visuals demanded by today's audiences is one thing. Harnessing the tools to pull it off quickly and efficiently is another thing entirely. With features such as Body Pose Estimation talent tracking by Pixotope and the recent acquisition of TrackMen camera tracking solutions, virtual production is becoming more accessible to more and more media producers by reducing the technical complexity. This makes it easier than ever for artists to successfully match the virtual camera to the real camera for hyper-realistic results.
3. New Opportunities Await
The Financial Times says the top eight media companies are going to spend over $115bn on movies and TV in 2022. And the audience for that content is only going to grow more demanding. Spoiled by billion-dollar blockbusters, we expect cinematic visuals everywhere, from esports broadcasting to TV news. What does this mean for media and entertainment artists and executives?
Obviously, more content means more work. But it will also need to be done faster as the increasing reliance on technology and its efficiencies it offers establishes a new normal. Nearly half the respondents to Altman Solon's 2021 Film & Video Production Survey plan to expand or upgrade video editing tools soon.

All that high-quality, HD, 8K entertainment will be built by the latest, most efficient technology, and putting that in your hands is what Pixotope is about. As Weather Channel presenter Jim Cantore discussed the safety and dangers of tornadoes, the real-time mixed reality created a falling power line, a beam coming through a wall, and a wrecked car falling at his feet right in the studio.
When a volcano erupted on the island of La Palma and 1,100 degrees Celsius hot flowing lava started to destroy everything in its path, a team from Videoreport Canarias decided to show the TV audience what happens when the lava comes into contact with cold water.
During the 2021 NFL season opener between the Carolina Panthers and the New York Jets, fans were immersed in the experience of seeing a 50-foot AR panther leap around the stadium and savage the Jets' flag.
Virtual Production can be applied to so many exciting areas – some of which we probably haven't even seen yet.
4. The Community is Growing
Our charter is two parts, removing the complexity from virtual production and empowering the industry with the knowledge to thrive with it. In April we welcomed our head of education, whose focus is to create actionable partnerships with educational institutions around the world, enabling faster adoption of tools and techniques. Combined with an extensive services team with decades of experience, we transfer essential knowledge and mitigate production risks to help customers push the limits and bring ambitious productions to fruition.
We are also seeing the sharp end of the coming trend in education. USC was the first to offer virtual production as part of its Bachelor of Arts in Interactive Entertainment and a minor in Immersive Media in 2017/2018, concentrating on VR content. In addition, The National Film and Television School offers a certificate course purely in virtual production itself. It's becoming easier for higher education to implement the curriculum with the help of companies like Pixotope who are offering extensive support and educational services. The result is a new class (figuratively and intellectually) of professionals who will emerge with a native understanding of the technologies and their applications, cementing virtual production even deeper into M&E. More importantly, most existing programs started in 2018, which means the first graduating class armed will enter the workforce this year…
The View from Here
When the media and entertainment industry started experimenting with game engines and real-time graphics, none of us imagined how widespread virtual production would become. However, we've still barely scratched the surface.
At Pixotope, we believe it's no less than the birth of a new paradigm in how media is created and consumed. Read more about where it's all headed in our blog "Is 'Virtual Production' simply becoming 'Media Production'?"