Don't you just love March! Longer days, warmer weather, spring around the corner - well, in the Northern Hemisphere at least - and to make things even better, the first major Pixotope release in 2022.
We've been busy on a whole host of different improvements which we hope will make productions big and small more manageable and enable you to stretch your creative legs even further.
XR Panel
2.1 introduces a host of new improvements for XR productions with LED volumes. To make all related features more accessible, we've introduced a new XR panel that exposes all controls from the Editor in a single location to ease the setup and management of XR installations.
New control panel
We released an "experimental" version of our new control panel in the previous release, 2.1, and we've taken another leap forward in 2.2. In case you missed it last time, the new control panel is entirely configurable, enabling you to create an interface that is 100% tailored to the requirements of your environment or specific production.
In this release, we've focused on usability in creating new control panels and added a lot of new features, including:
Drag and drop properties onto the canvas to create widgets with actions in one go
Drag and drop properties onto an existing widget to modify it
Individual control of color parameters
Added Group background and Color picker widgets
Editing of widget properties on right mouse click
Edit multiple widgets (of the same type) at the same time
New tab shows all available exposed properties for ease of access
All properties can now be linked, not just exposed ones
Local image resources can now be used
Extended shortcuts
We think you'll like the new Control Panel, and now that it has surpassed the functionality of the old control panel (2.0 and earlier). All the example/template panels of the old version have been updated in the new, so you shouldn't see any changes in functionality if you weren't already using the new panel. You can learn more about the new Control Panel in our Help Center, and, as always, we welcome your feedback and suggestions.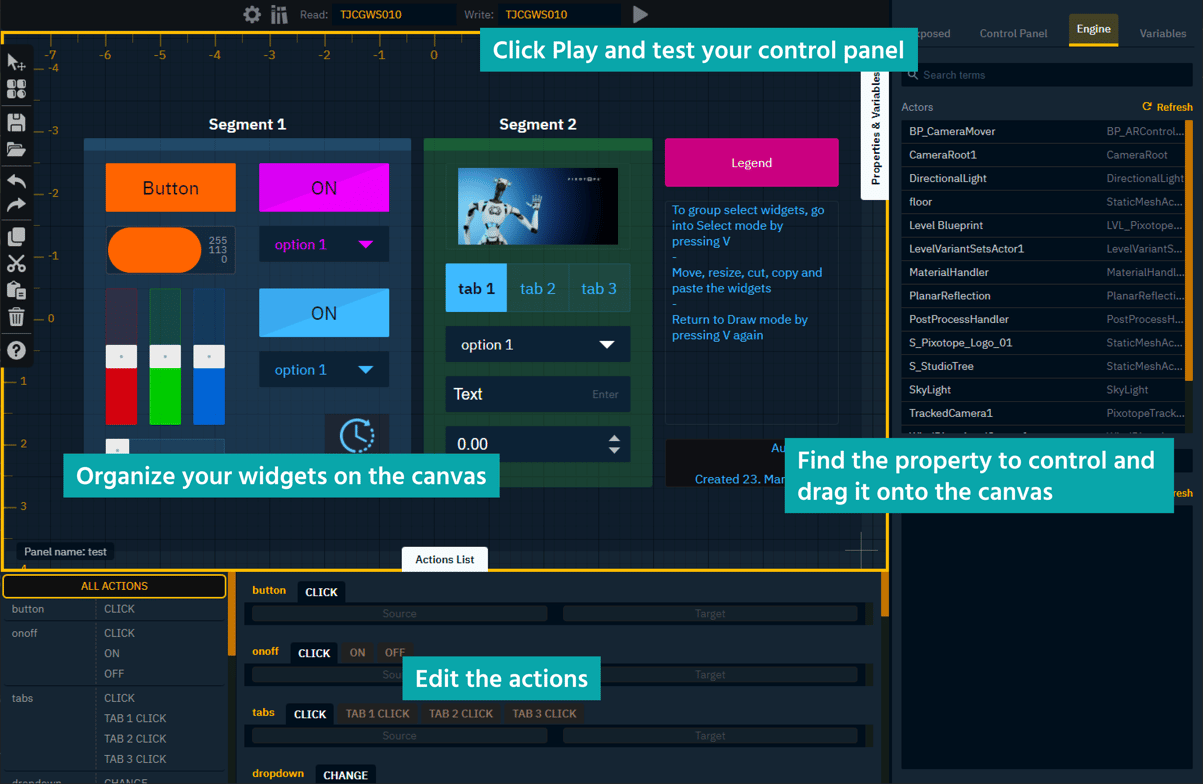 Usability improvements
Working on a production can be a juggling act, so we've added two new features to save you time and screen space.
First, if you've ever wanted to have more than one Director panel open simultaneously, now you can have as many as you like and use the standard Windows shortcuts and functions to switch between them.
Secondly, to maximize usable screen space, we've made it possible to show/hide the side menu in Director - simply use the show/hide menu icon on the top left to collapse the left side menu.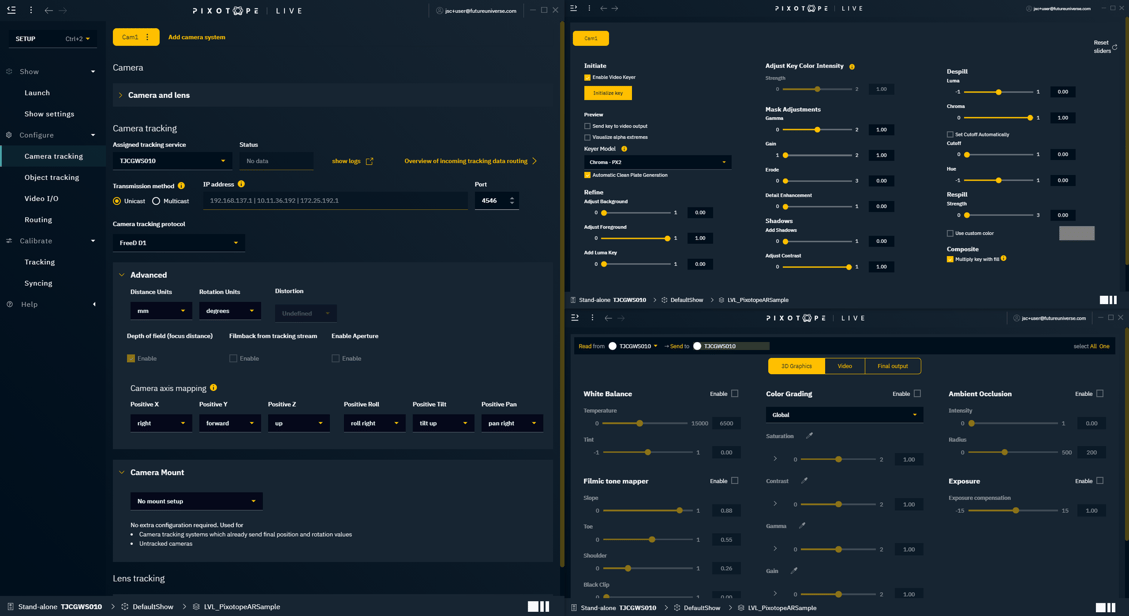 Enhancements to Talent Tracking
We broke new ground in 2.1 with the release of our Body Pose Estimation feature. Using AI, Body Pose Estimation, BPE, allows us to track the movements and actions of a single presenter on a green screen and, therefore, interact with virtual objects without the need for any additional equipment. This also allows us to position the compositing plane automatically and makes it easy for you to set up gestures, actions, and collisions. In addition, it generally allows much greater freedom of movement of the on-screen talent.
We've made using BPE even easier to use by enabling the software to autosize the internal compositing plane with the following options.
T-pose - to always provide enough space for handling fast movement and hand action covering the maximum extent of the body
Tight - for smaller greenscreens, we provide a plane that closely follows the detected body with a small margin around to ensure it doesn't clip.
Off - no autosizing, manual sizing
Additionally, we rotate the internal compositing plane towards the camera by default, simplifying the setup.
Diagnostics panel
We know that Pixotope software is used in mission-critical live and broadcast environments. So to ensure that you have confidence in the health of your system, with 2.2 we're releasing the first iteration of our real-time system monitoring and diagnostics tool.
Once the diagnostics service is running, you can monitor the health of critical hardware parameters on all your machines in a Pixotope network. We have set default warning and error thresholds which you can adjust according to your hardware and needs.
Should you experience any issues, you can now easily report issues to our Customer Success team directly from within the Director and conveniently attach all relevant logs with a click of a button.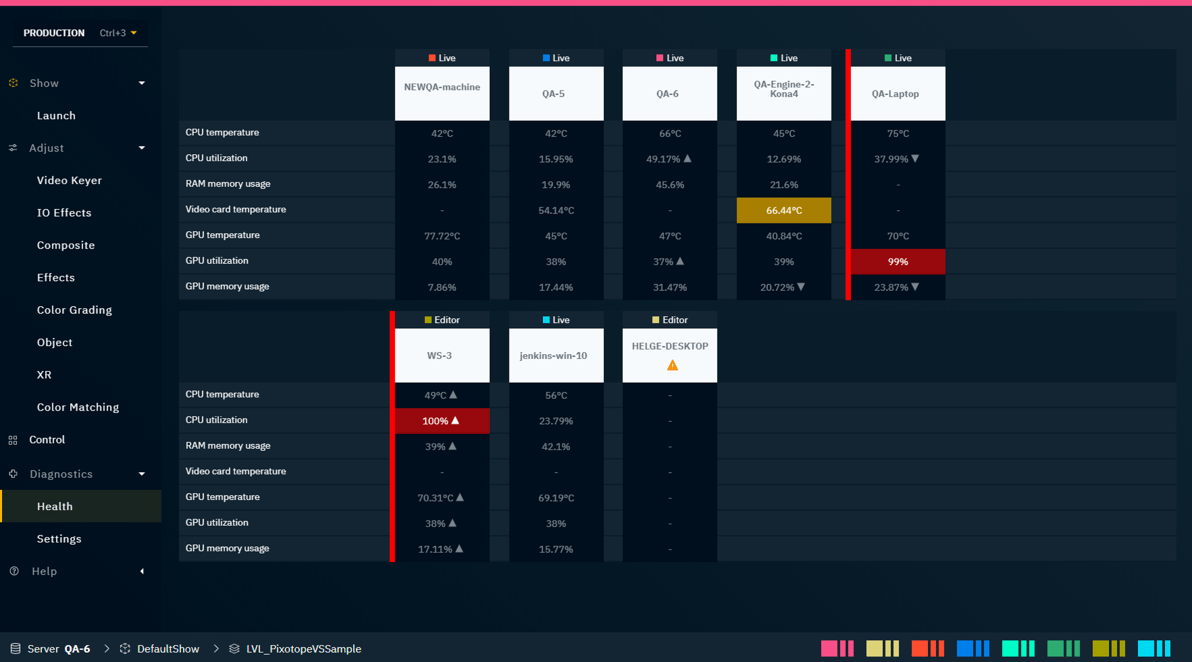 Try It Out
If you're an existing Pixotope user, you can download the new version from Pixotope Cloud. If you're not yet a Pixotope user and would like to try any of these features, just fill out a Demo Request and one of the team will contact you!