To close the gap between production and imagination… That's Butcher Bird Studios' mission. They offer their services as a creative partner, operating, in their own words, "at the delightful collision of unconventional storytelling and mesmerizing technology." Part of that technology mix is Pixotope, which delivers mission-control capabilities for some of Butcher Birds' key projects.
The company was founded with its mascot, the Shrike, in mind: a bird known for using tools in the wild to compete with larger birds of prey. It started as a group of innovative directors that joined forces to offer creative ideas that had not been explored before. Their growing customer base now includes household names such as Meta, Amazon, Airbnb, Netflix, Toyota, and Twitch.
Innovative Storytellers
Rather than just being a service provider, Butcher Bird Studios prides itself on being an innovative storyteller. They're passionate about how stories inspire applications of technology, rather than the other way around. When they embark on a project, their team first asks about the story to be told and then considers how to leverage the latest technology to make it happen. Partnering with Butcher Bird Studios makes perfect sense, as it aligns with the Pixotope mission of pushing storytelling boundaries through virtual production.
For the last 10 years, Butcher Bird has delivered unique and engaging storytelling experiences for incredibly demanding mission-critical executions. Their client list includes businesses of all sizes from a range of industries.
Inspired by the Shrike, the team is always on the lookout for the best available tools, putting the latest tech to the test.
"We pick and choose projects that allow us to come up with a creative solution never designed or considered before - we love applying new innovations as they emerge. A philosophy that is remarkably open to innovations as they arrive is part of our DNA".
Steven Calcote, Partner & Director at Butcher Bird Studios
They were pioneers in live streaming from the field, on projects featuring collabs between Facebook and Airbnb as well as the "Live From" pilot for Airbnb and National Geographic. And they've developed new workflows for VR180 projects in conjunction with Canon, Meta, and BuzzFeed. As virtual production (VP) tools matured, Butcher Bird decided to challenge themselves to uplevel their development of original creative and push the boundaries of the newest technology available.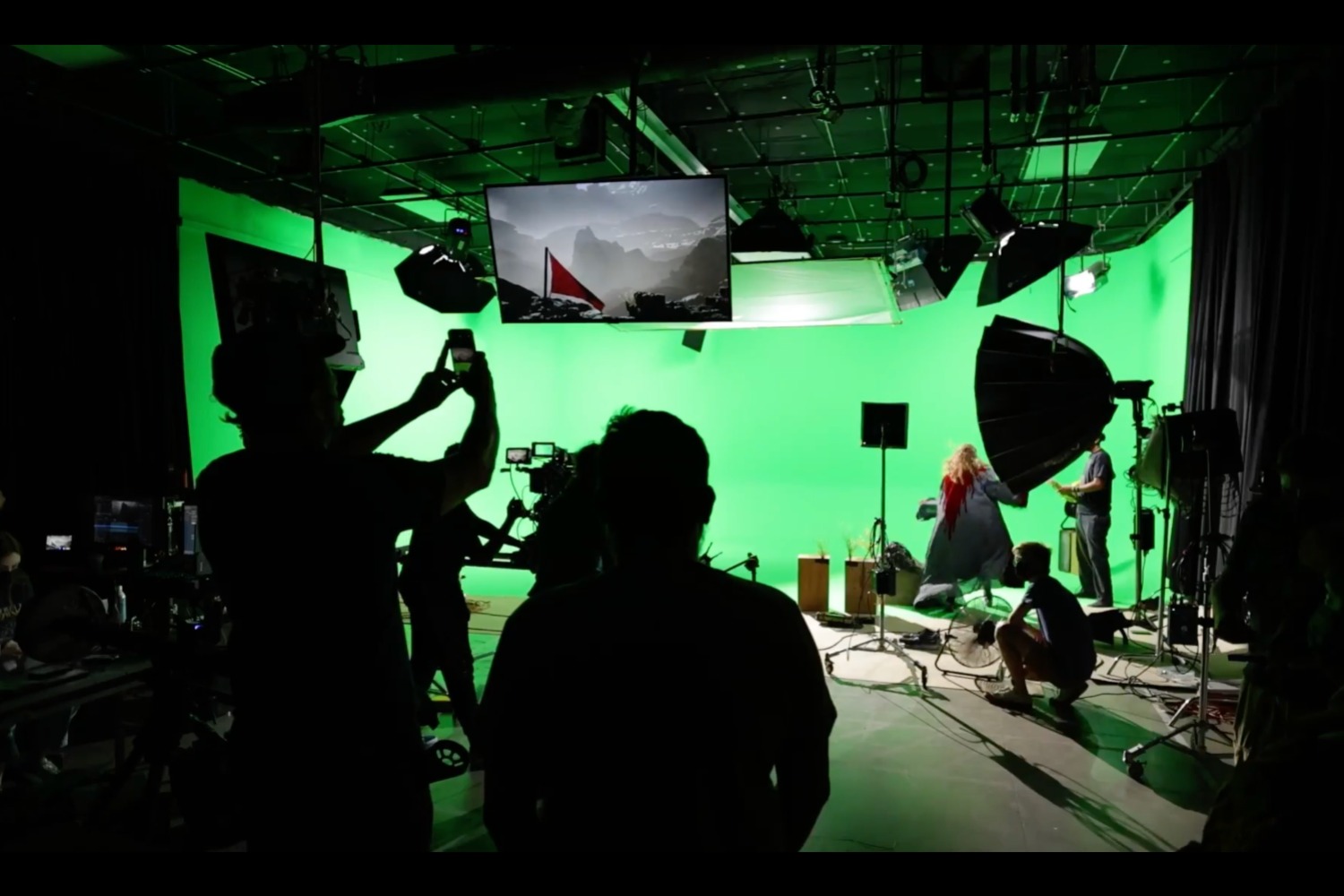 With the arrival of Unreal Engine, the Butcher Bird team saw an opportunity to apply gaming design techniques to their film and broadcast work. This was a game changer for their projects, but it came with technical challenges too, such as the need for multiple cameras, proprietary bespoke solutions, and teams of engineers to make it all work. This is where Pixotope came in!
Pixotope Glues it All Together
With Butcher Bird Studios taking on more projects from original creation all the way to execution, they launched an internal project called VP Flex, designed to ladder up productions and prove how VP can be successfully applied to a range of use cases.
Over the course of three days, the team created a 90-second integrated piece that takes the viewer on a journey across eight radically different environments: from a fanciful talk show set at the top of a skyscraper through indoor and outdoor experiences, ending on an asteroid in a science fiction world!
Pixotope acts as the linchpin for all that creativity to come together and simplify VP, making it easy to change virtual backgrounds and fine-tune on the fly, saving time and money. The affordable setup, a 1500 sq. ft. (457 square meters) screen studio, breaks free of the boundaries of a stage and enables studios of all sizes and budgets to achieve what before has only been possible with LED setups.
The VP Flex project responds to the Studios' need to keep challenging themselves. It is used to inspire clients on what can be accomplished using a green screen stage, without investing in an LED volume.
It is easy to imagine talk show sets, commercial sets, narrative sets, or educational sets… As the team at Butcher Bird puts it: "If we can imagine it, we can create it. And we can create it in real time"... all thanks to virtual production.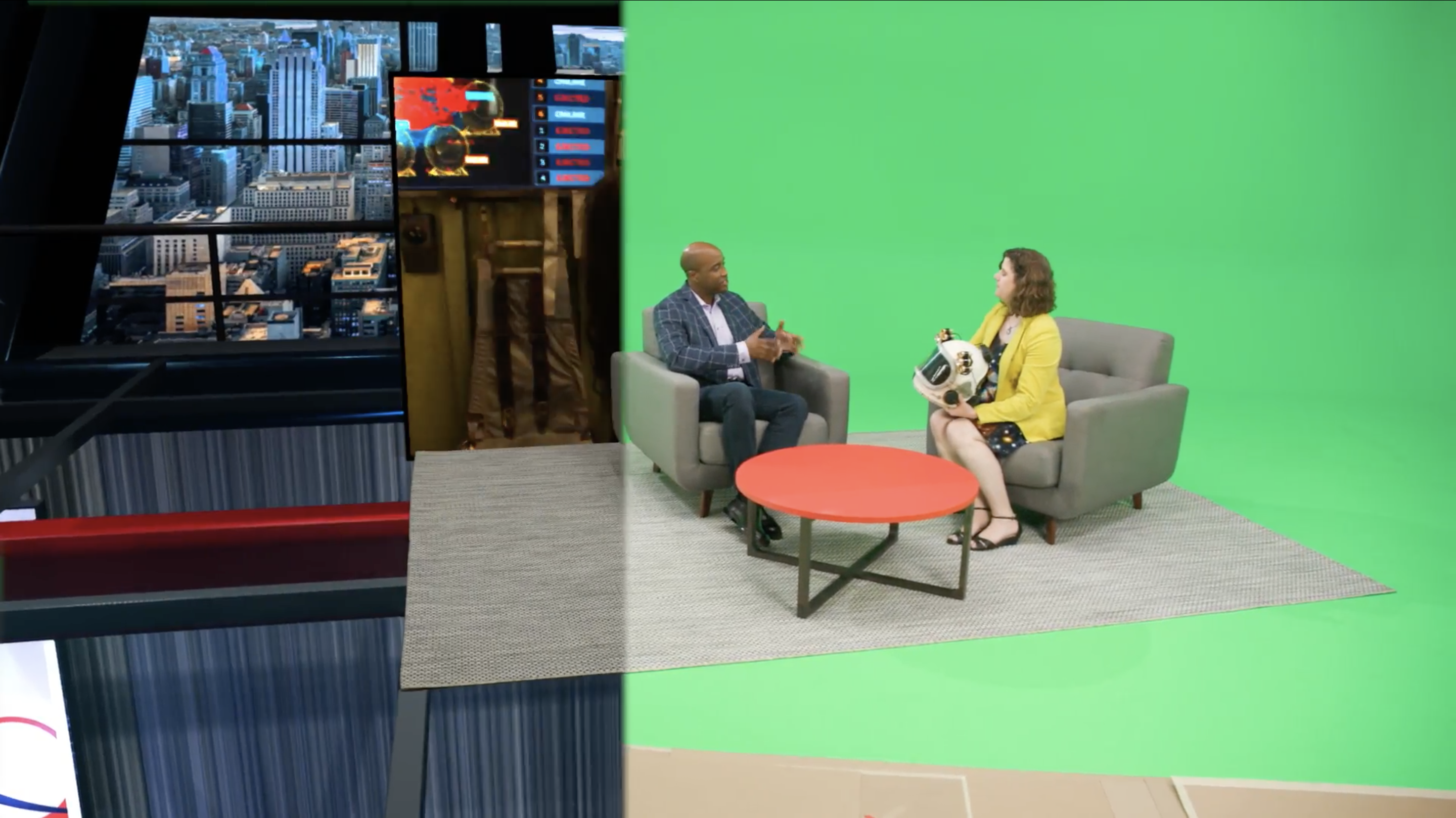 The Pixotope technology comes with a support team that thinks in terms of film and broadcast, truly bolstering the capacities of an independent studio like Butcher Bird.
"Pixotope is our guiding force for virtual production. It allows us to create incredible broadcast-ready entertainment that respects the unique needs of film and television production. We now have built-in interfaces, we have iPad control of the scene, we can iterate new technology… It's a really natural fit".
Steven Calcote, Partner & Director at Butcher Bird Studios

What's in store for Virtual Production
For the team at Butcher Bird Studios, VP is currently at the exciting stage of incredible exuberance - enabling rich storytelling that was unthinkable before. The next phase of adoption comes with hard questions: how do we sustain it? How do we keep executing? How can creatives who aren't big production studios or big entertainment conglomerate leverage VP?
It all comes down to democratizing virtual production, making it accessible to more creators so it can continue to grow - an endeavor that Pixotope has been investing in for some time through its Education and Partner Programs.
If such democratization succeeds, the line between virtual production vs non-virtual production will eventually blur, with technologies converging into what will just be seen as everyday production.


Find Out More
So, if you want to take your broadcasting, movie, or streaming to the next level and learn more about the exciting features of Pixotope, get in touch with our team.