Erik Beaumont is head of mixed reality (MR) at The Famous Group (TFG), a production company specializing in virtual and augmented reality for sports and live events. He took an unusual first step into 3D animation — he created a CGI simulation for shoulder arthroscopy surgery.
That led him to work on some of TFG's most iconic projects such as a slimetastic educational activation with Nickelodeon, the 2021 NFL season opener with a virtual panther tearing around the stadium, and a giant raven swooping over fans at a Baltimore Ravens exclusive Thursday Night game opener among others.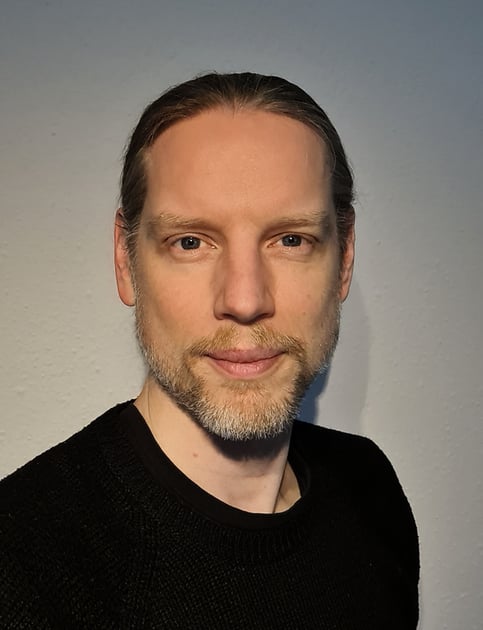 The Long and Winding 3D Road to Realtime
Although born in the U.S., Erik lived all over the world, spending his formative years in Europe, Australia, South Africa, and China. His global experiences put him on a career path as eclectic as the countries in which he lived.
While pursuing a double degree in computer science and Chinese, Erik was first exposed to 3D. He was pretty taken with the powerful Silicon Graphics workstations' compute capabilities and wondered if they could be put to use in medicine. College friends of Erik who studied medicine said their biggest problem was figuring out how to prepare for and perform complex surgeries. So, Erik went off and created a simulation of shoulder arthroscopy in real-time 3D.
"It looked super old school, but it was pretty cool; it had a score counter so that the users would get docked on the mistakes made during 'surgery'. Ultimately it didn't go anywhere, but it was a great project to help me learn 3D," says Erik.
Armed with a unique appreciation and real-world skills in an emerging field, Erik landed post-college in Munich, Germany working for Avid. Avid had recently acquired the 3D technology Softimage and needed experts like Erik to help evolve the technology and its use in media and entertainment. Known as one of the "granddaddies" of 3D, Softimage was famously used on Jurassic Park, Star Wars, and other major blockbusters. In this role, Erik became fully immersed in 3D and laid the foundation for his career.
After his Avid days, Erik worked as a technical creative director in Munich — mostly on automotive advertising. But it was only a matter of time before some European industry friends from Ventuz, a real-time 3D broadcast graphics startup, called Erik. They needed an expert in 3D to help grow the company. One thing led to another, and Ventuz caught the attention of major companies, including TV networks in the states. When offered, Erik jumped at the chance to help open a Ventuz office in the U.S., and eventually was promoted to run the entire company. Over the next decade, Erik worked closely with Ventuz customers and partners, perfecting his real-time graphics, business, and management skills, which would prove instrumental for his next role at The Famous Group.
While it was a departure from working for developers, the decision to make the move to a creative agency was easy.
"A friend had started at a company called The Famous Group doing all this crazy MR stuff that had success on their first couple of projects, but they needed somebody who knew 3D but was familiar with helping companies grow and talking to customers. He was like, 'join us!' So, I did, and that was that," adds Erik.
C-C-C-Changes

One of the biggest changes in the field since Erik started was the cost of hardware. In the late 1990s, a Silicon Graphics workstation used for 3D projects sold for six figures. It was so cost-prohibitive that very few people planned their careers in 3D simply owing to the enormous costs. Today, you can buy an even more powerful computer with the software to create 3D graphics for about a thousand dollars.


"Realtime graphics is being transformed from this arcane technophile area to something much more accessible," he says. "Anybody can learn it whether it's in computer games, programming, or movie and TV production."

In fact, Erik was there before the founding of the field, in a way. Ventuz, the company he eventually ran, was founded on the idea of using what was essentially a game engine for 3D graphics back in 2004/2005, long before systems like Unreal and Unity were considered for use in film and TV.

"It was built using Direct X [a Microsoft API architecture] and we were doing shows that weren't possible using old render farm techniques. Today, 4K is still enormous, but back then we were rendering at up to 12K, and in real-time," adds Erik. "The way we did it was just to stack machines and GPUs and go at it! We realized that not only is the quality increasing with every iteration of graphics card technology, capabilities for scaling and real-time changes were growing."
From there, the reason such a methodology shift took off for Erik at Ventuz is kind of obvious. "If you're ABC or CNN you can shell out $300,000 for a graphics rendering pipeline, but if you're just doing a one-off show, it's hard to justify that spend when gamers were getting better graphics on a $500 Xbox."


Creating "Wow" Moments with Mixed Reality
"Basically, I'm responsible for everything mixed reality," Erik says about his current duties, "but there's no clear 'this is your day job' description." "It ranges from helping define and get projects off the ground, making sure the customer understands what mixed reality even is, mapping out the project, and assessing feasibility — we have to make sure the tech is capable of achieving what the customer is asking for. It's a little bit like an executive producer role mixed with some tech wizardry and business development chops."
In fact, so much of it seems to be about off-the-cuff troubleshooting it evokes the job of a film director. "It's always the unexpected little thing you didn't pay attention to that comes and bites you in the ass three days before the show date," he laughs.
"But we've had a great experience with Pixotope. They're very familiar with the realities of virtual production and support. You know, when we're heading into the Superbowl they'll actually call us and say 'Hey, let's talk and make sure everything's lined up and you don't have any issues.' That's the kind of service that makes a difference for me."
How to Jump Into Virtual Production
Erik's advice for virtual production hopefuls is pretty simple: be a generalist. Know your basic way around code and animation so you know what needs to be done to keep things running smoothly, but you don't need to be the best programmer or animator in the world. Even more important, remember it's a business about people. "It's undervalued but it's about having personal skills in client and people management."
And if you're hoping to sidestep into MR from traditional production, it isn't as big a leap as you might imagine. "Production timelines and deadlines are stacked slightly differently, we emphasize different things like how the dailies work and cutoff dates for approvals, but if you have the basic toolset you'll adjust fairly seamlessly," he says.
You should know your way around a game engine, but even that's good news: "Pick a game engine of choice and just do something in it. People imagine a high threshold of how complicated it is, but the reality is different."