In media production, there has been a lot of talk recently about being on the cutting edge. With AI's growing abilities, game-engine-powered filmmaking, and the cloud looming over everything. However, it's hard to ignore the fact, with all these technological advancements, there is a lack of talent to master these tools. Aspiring creators need to be exposed to these tools in a creative space, and allowed to tinker and make mistakes. Only through hands-on exposure can we expect them to gain experience and the necessary skills to enter the media industry.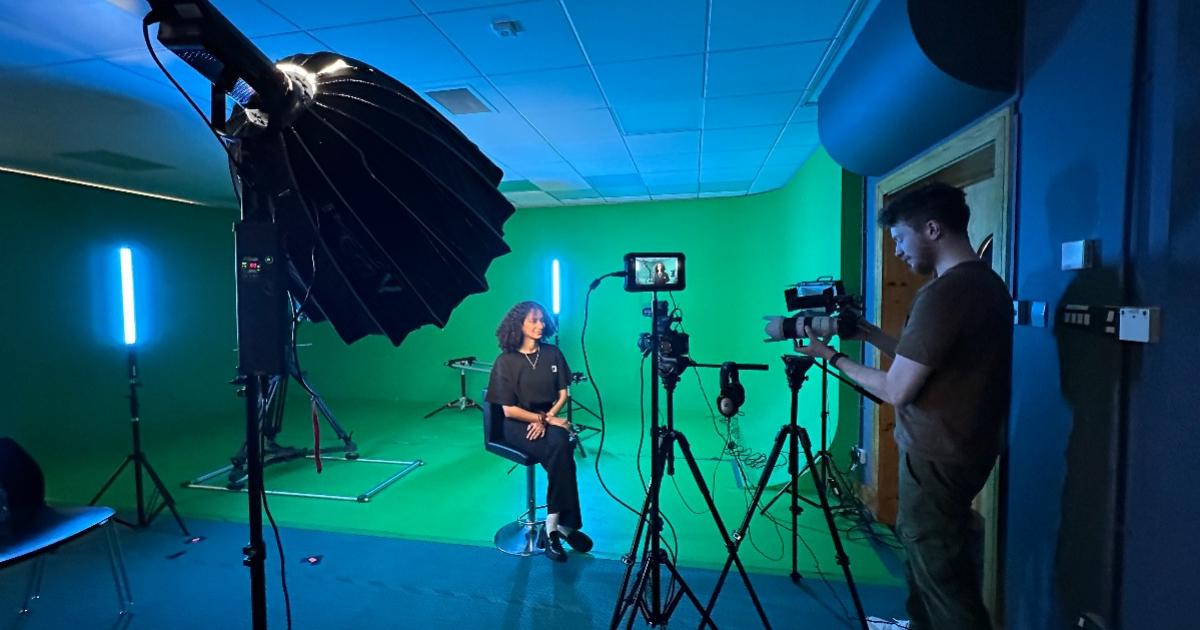 How University of Gloucestershire Leads The Way in Virtual Production education
At the University of Gloucestershire, students are given access to these advanced tools, as well as the freedom to ideate, create, and iterate. The university has been one of the first partners in the Pixotope Education Program with the goal of ensuring that their students get hands-on experience with the technology and workflows they need to be successful in their careers in Virtual Production. Through the university's partnership with our Education Program, we hope to see students take charge in a growing industry through the years to come.
Pixotope Hosts Workshop at University of Gloucestershire to Inspire Next-Gen Talent
As part of this partnership, Pixotope hosted an event at the University's beautiful Park Campus in Cheltenham. A group of students from the Digital Media Course participated in a workshop in which they had the opportunity to create their own small production using the Pixotope Graphics software.
Our event started with lots of behind-the-scenes work. Getting the latest Pixotope suite downloaded onto the university machines, prepping presentations, and rehearsing the workshop.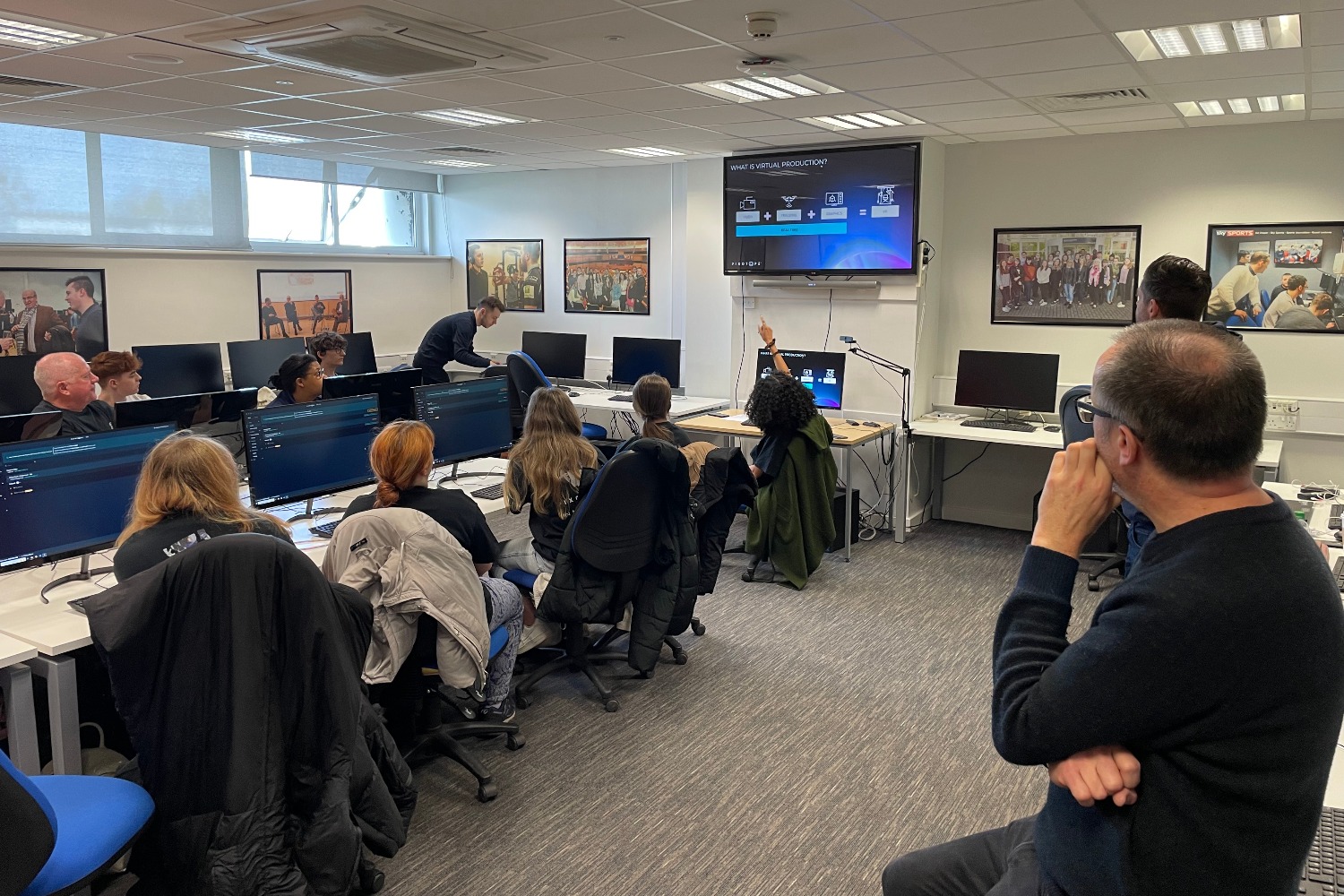 By the time the day came, we were ready to go in our Pixotope merchandise. The usual introductions were had, and we were off! Our workshop introduced the Digital Media students to Virtual Production as a whole. All the different VP types, from simply using AR graphics to the larger scale LED wall setups. We covered industry-specific workflows through recognizable examples like the Mandalorian, sports content, and K-pop groups. We also dived into the Tracking and Graphics tools Pixotope provides. Our main goal, though, was to get the students to work in groups to create a small VP setup.
Engaged and Creative: Students Get Hands-On with Pixotope
The students learned pretty quickly that while things might be easy to understand when presented to them, actually getting involved in the process is a whole other world. Here, they were very engaged, with lots of questions as the possibilities of what to create opened up in front of them. The room was lively as everyone got a turn to use the Pixotope Platform and supported each other in the troubleshooting process. An advanced corner was cropped out and covered Unreal's blueprinting pipeline more in-depth. The collaboration in the room mirrored a real-life production meeting, and the students' creative spirit was able to shine through the more they got comfortable with the software.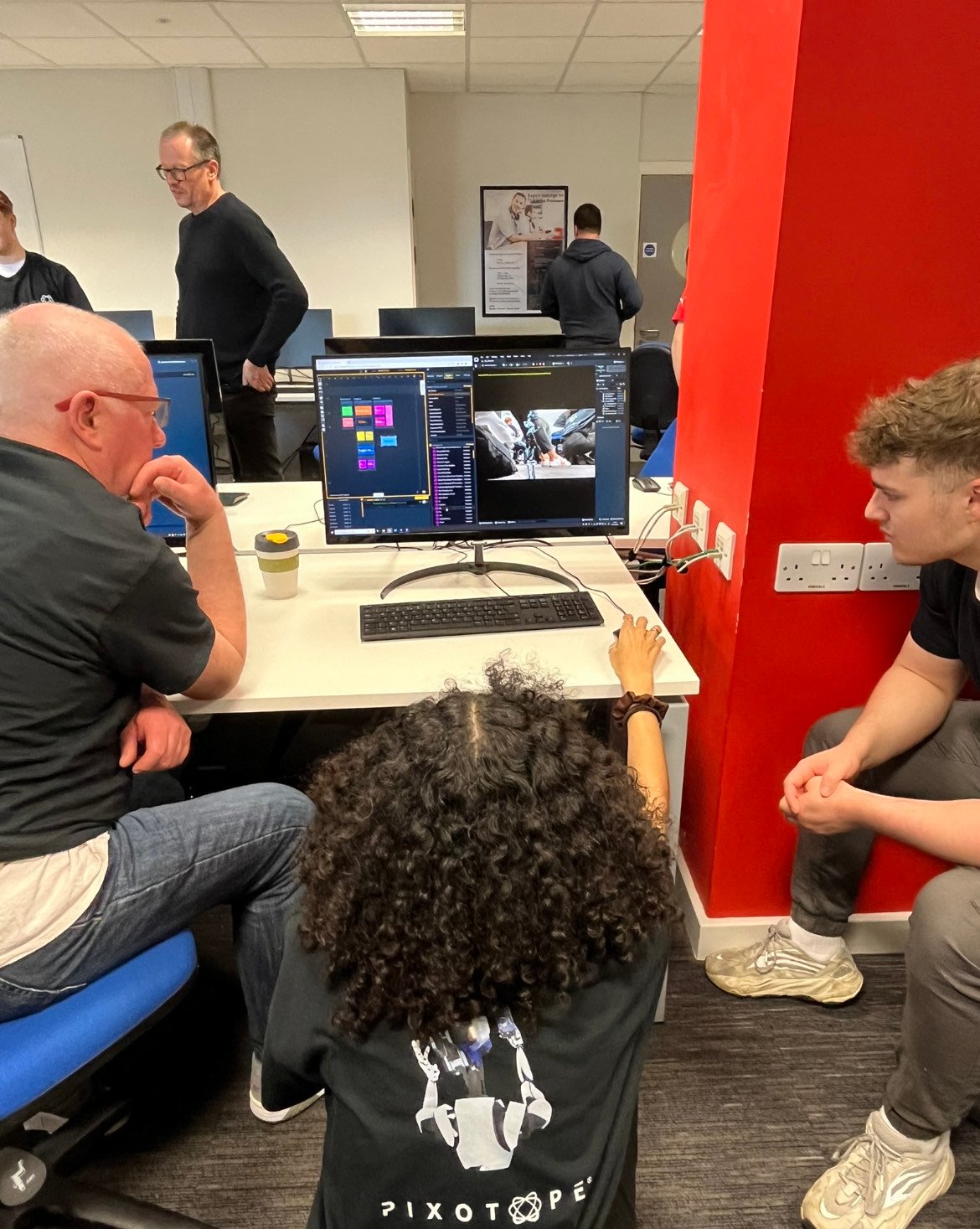 The second part of the day consisted of a conference-like session with Pixotope internal and external speakers in which the entire School of Creative Industries could participate. Here, we wanted to shine a light on how constantly evolving and diverse the field of Virtual Production is, and how manifold the career opportunities are. All ways lead to Rome…ehm, virtual production.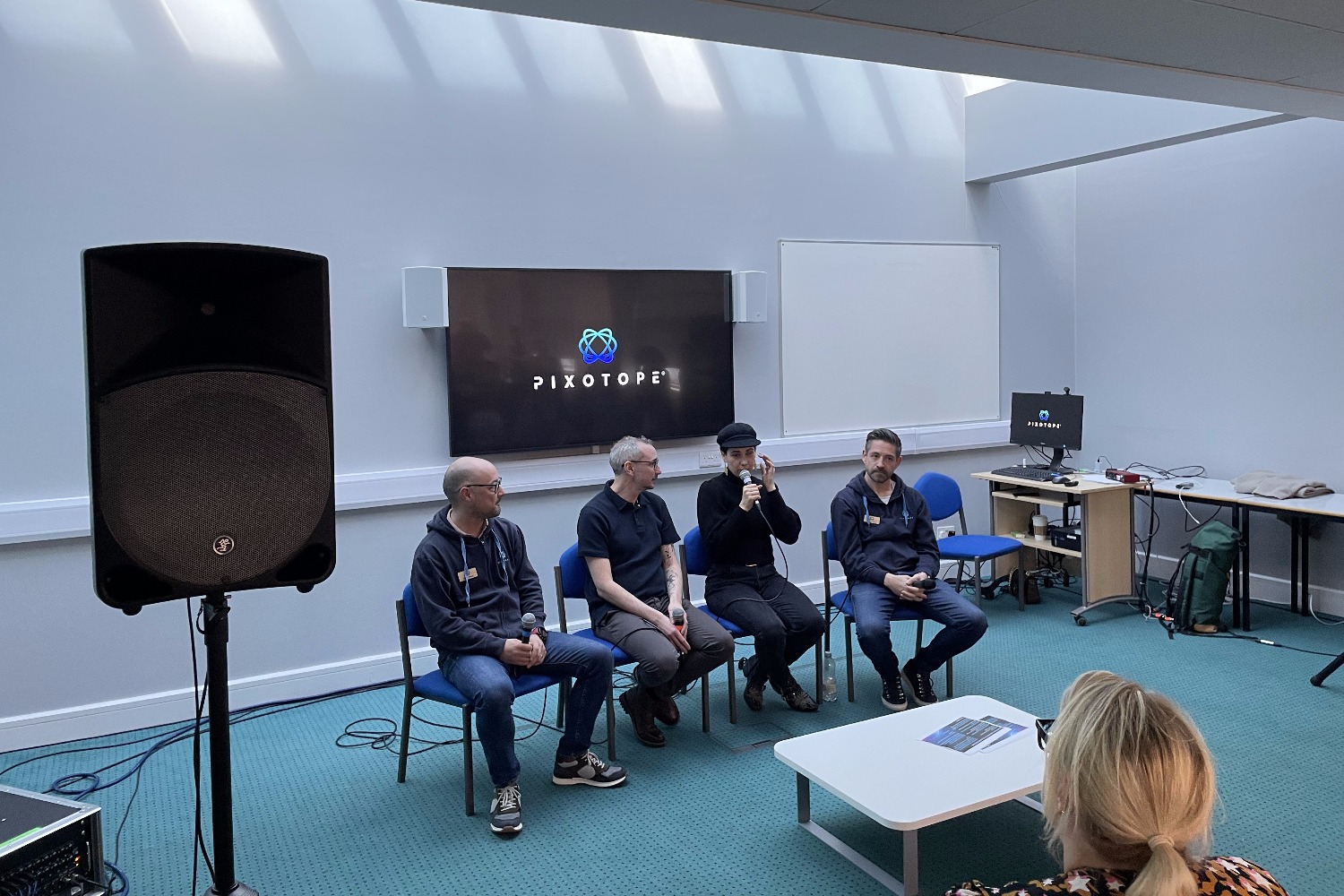 Virtual Production Industry Needs Creative and Technical Talent
The discussions covered lots of topics related to the industry, but the main focus was clear: Virtual Production needs talent. It needs creative talent and technical talent. Whereas traditional media creation favors specialization, Virtual Production welcomes skills from everywhere.
Students came up to me personally, wondering how my background in Theatre Scenic Design led to designing for MR technology, as well as asking the traditional university questions of how to find relevant placements. It seemed unrealistic to them that you could just "shift" into this industry. I explained that no matter what your background is in (games, broadcast, theatre, filmmaking, advertising, etc.) there is a place to carve out in the emerging technologies industries.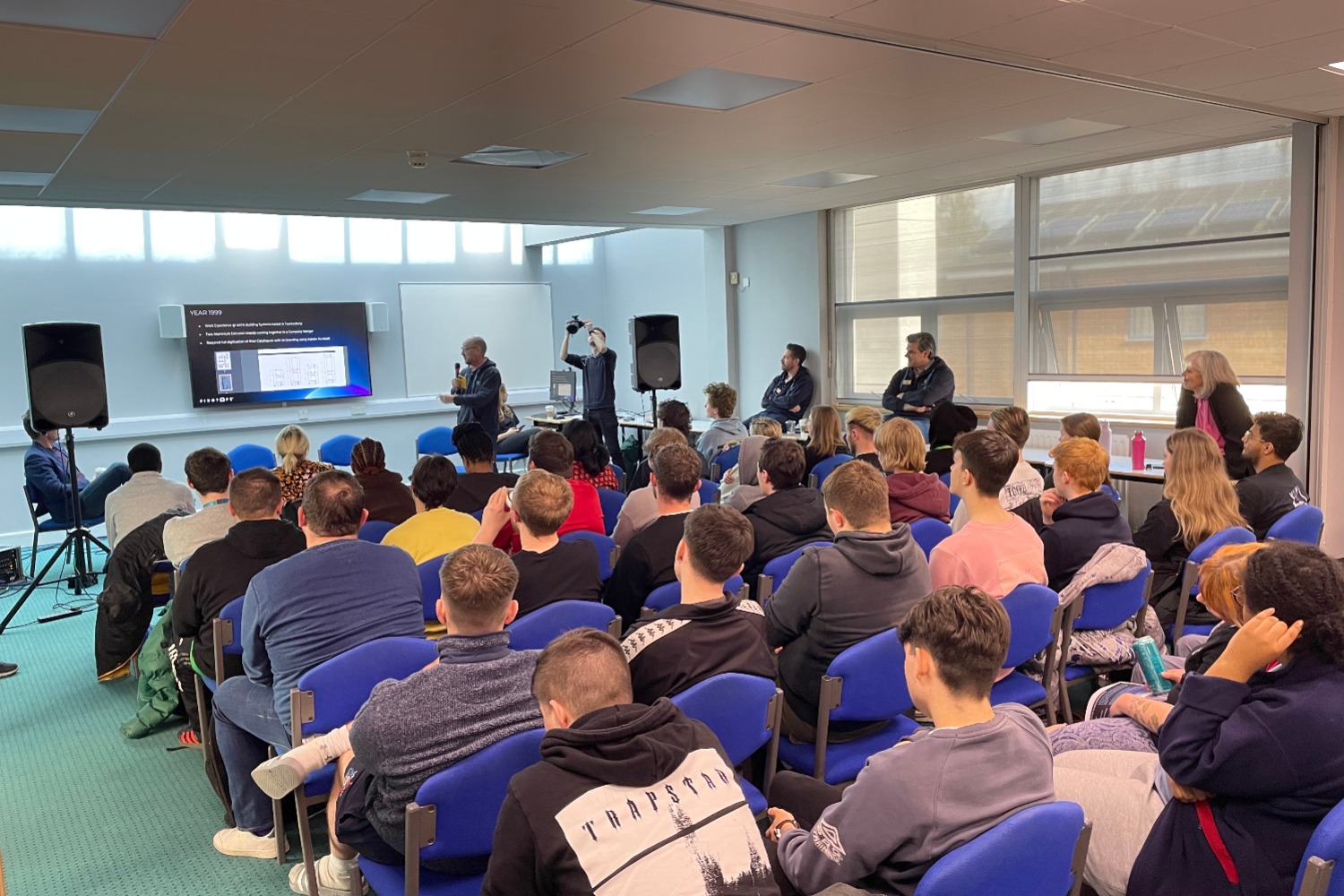 Our target coming in was inspiring creators. We hope with all the buzz we've created from this event, it leads to people being more optimistic about finding their own unique way in the industry.
I look forward to seeing new talent and being shown up by a younger generation of artists, technicians, creatives, programmers, modelers, and every other small facet needed to run a good production.