Singapore's National Day Parade prides itself on being spectacular, and after two years of pandemic restrictions, 2021 saw a roaring return to live performances on a grand scale to celebrate Singapore's 57th birthday. To help transform the live parade into an unforgettable event, local visual experience creators Anomalyst Studio partnered with Pixotope. The result? Visual illusions that blurred the lines between reality and virtual.
Anomalyst who…?
"Creators of visual experiences that inspire wonderment" - that is how the team at Singapore's Anomalyst Studio define themselves. Their name comes from combining the words "catalyst" and "anomalies", as they constantly seek to innovate the Virtual Production (VP) scene across South East Asia.
The company started over a decade ago as a post-production business, including motion graphics and animation. They soon realized that there were opportunities to innovate in creating visual content for physical spaces at live shows and events and within a few years they became unique in the region.
"When the pandemic hit, all events and live venues shut, it all went virtual. So, combining our experience in motion graphics and live event production, we started to think about how we could replicate live experiences within a virtual show. How can we make the audience feel like they're part of the moment - feeling like they are in the same space as visual elements happen live?"

Ben Kee, Creative Director, Executive Producer, and Founder, Anomalyst Studio.
Building South East Asia's Virtual Production Market with Pixotope
This bold approach positioned Anomalyst Studio as the go-to expert in virtual production within the South East Asia region. Initially, they were using a mix of in-house developed solutions and traditional broadcast tools, making the VP process not only complex but also fragile, requiring extensive and costly redundancy measures.
As demand grew, so did the need to deliver more polished results, and that's where the partnership with Pixotope began. Together, both companies are committed to bringing VP to Singapore, extending the possibilities for any local company that wants to deliver breathtaking virtual experiences within a physical space.
And this is not limited to companies in the media space: Anomalyst clients include theme parks, musical artists, theaters, and museums, as well as Singapore's national broadcaster, MediaCorp.
Leveraging Pixotope solutions, Anomalyst can deliver green screen studio production, and outdoor and indoor broadcast Augmented Reality (AR).
"Pixotope provides an intuitive solution in terms of bringing all the pieces of the workflow together and compositing AR graphics into the scenes, with light and shadow catchers creating natural views. It's quite a breakthrough in terms of virtual production".

Khairulddin Joha, Art Director, Anomalyst Studio.
Anomalyst + Pixotope = Powering Creative Success
Investing in Pixotope virtual production software tools allowed Anomalyst to address multiple issues. In addition to simplifying their previously complex set-up, it gave users a single consolidated tool to power their clients' creative needs.
As a result, the team is now less concerned about potential technology failures as they focus on becoming experts in the field.
"Pixotope has provided us with so much support, with direct access to the technical team to help us understand the tools. And when it comes to figuring out how to integrate new devices, they put us in touch with industry specialists, even when it is not directly related to Pixotope products. We wouldn't have felt so confident going into VP without Pixotope help."

Ben Kee, Creative Director, Executive Producer, and Founder, Anomalyst Studio.
The collaboration has enabled Anomalyst to work in the most prestigious live event that any Singaporean company could imagine, and the crew's favorite to date: the Singapore National Day Parade.
Traditionally an outside live broadcast with hundreds of performers on stage, it took some time for everyone to warm to the prospect of broadcasting AR graphics for such an important event. After the first few rehearsals, it was clear that adding engaging AR content to complement the live components added an entirely new dimension to the show.
"Viewers didn't realize that the AR graphics were not real objects in the environment. The audience was wondering if the stars [from the Singapore flag] were flown in with a helicopter."

Chandrika Ong, Technical Artist, Anomalyst Studio.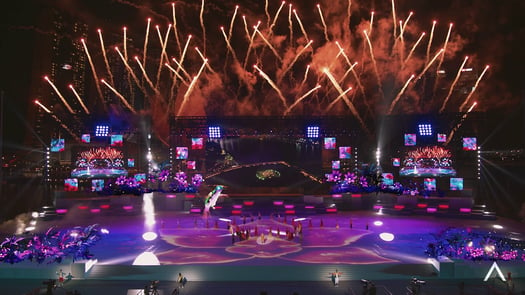 During the 2021 Singapore National Day Parade performance, AR elements were precisely choreographed into the live show
The Future of VP
Anomalyst's founder, Ben Kee, believes in the power of live events to bring people together but there is also a need to consider virtual audiences and how to enrich their experience so that the two can share the moment. Live and virtual spaces are converging, making it even more important to build intuitively interactive experiences.
This is where VP technology is moving to next: empowering creatives to deliver increased quality and fidelity and deliver more lifelike graphics and environments for all types of companies.
And along the tech evolution, there is a need to ensure new talent comes into the industry with relevant VP skills and Anomalyst Studio offers local internships to prepare the next generation of VP specialists. This is also an area where Pixotope invests time and effort with community initiatives such as the Pixotope Education Program.
As for what's next, Anomalyst continues to lead the charge for South East Asia's virtual production market. They most recently leveraged Pixotope for AR character performances during MediaCorp's 2022 Lunar New Year's Eve Special.
Innovators from their beginnings, Anomalyst Studio is paving the way for virtual production and creating breathtaking live visual experiences in Singapore with support from the hands-on teams at Pixotope. Proud to continue being catalysts of anomalies.
Discover more
For more information on how you can bring virtual production solutions into your workflow, contact Pixotope.