Along with actively shaping future storytelling comes our strong desire to involve the next generation of media producers. The ever-growing demand for new technologies in media production results in an equally high demand for new talent from universities and other educational establishments.
At Pixotope and around the industry, we recognize the need to actively engage the up-and-coming talent in higher education and inspire those who will be the future of this industry. That is why in this month's Pixotope Snapshot, we're speaking with Carina Schoo, Education Program Manager, to explore the progress in virtual production education.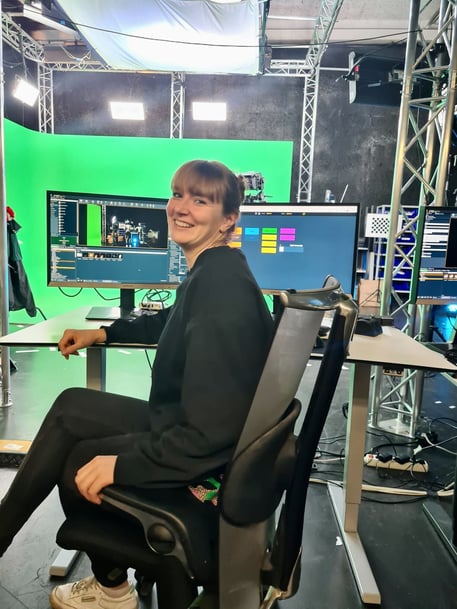 Tell us about your career and how did you join Pixotope?
I studied Media and Communications in Cologne and Berlin and have spent most of my professional life working with immersive imaging technologies and virtual solutions. I have always found this area incredibly exciting; I even wrote my master's thesis on 3D cinema.
I started my career at one of the renowned German Fraunhofer Institutes, Fraunhofer HHI in Berlin. I was the project manager for the HHI business cluster for immersive imaging technologies. After six years, I decided to relocate to Norway, where I would continue my professional career in media technology. I worked as a project coordinator and communications consultant for another immersive learning business cluster, VRINN.
During my parental leave, I realized that I really missed the immersive media technology industry and started looking for a new job in this area. I am thrilled I got an opportunity to join Pixotope and to assume the exciting role of developing our Education Program.
Could you describe what you do in your role as Education Program Manager?
My primary responsibility is to design, manage and execute the Pixotope Education Program. This newly-created role is highly strategic, which makes it both challenging and exciting at the same time. I overlook the acquisition and onboarding of educational establishments worldwide, supporting the creation of courses, handling industry partnerships, and designing and managing the Pixotope community channel. I also act as a point of contact between educational institutions, our team at Pixotope, and industry players who want to get involved as partners in our program.
Why is promoting education in virtual production so important now more than ever?
We strongly believe that VP will become the mainstay technology and the new standard for storytelling. Even though VP has been around for quite some time, it has experienced a massive surge just during the past two years. There is now a high demand for skilled people, but there are far more vacancies than new entrants coming into the market, which leads to a talent drought.
The film & TV production world is in a state of transition; many of the traditional roles are undergoing fundamental changes and will require VP skills. We aim to give educational institutions insight into this transition and the possibilities that VP offers and give students a chance to actively shape the future of media production.
We want to equip future VP experts with the best knowledge about VP and, in the process, give them access to the VP software tools, which they have often lacked up to now. In doing so, students will receive relevant, high-quality education from the top educators in VP, giving them a head start in the media production industry. At the same time, the industry gains the skilled workforce it needs to continue to evolve.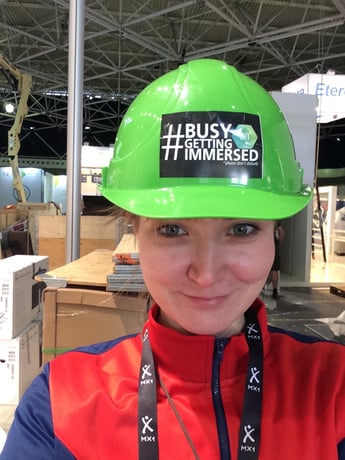 What is unique about the Pixotope Education Program?
The Pixotope Education Program is uniquely positioned in that we collaborate with educational institutions such as universities to provide them with access to the VP tools they need. There are countless types of VP academies out there, i.e., online training and certification courses from companies to further educate yourself. However, it is our approach to tailor our offer to the individual needs of the educational institution instead of providing a set training course. In addition, we want to create connections between academia and industry, help train future VP experts and build a community. So, our program entails much more than just support on how to use the software. That's what makes it so unique in our industry.
If someone wants to join the virtual production industry, what are the key skills needed when starting out?
We are currently in a time of transition, traditional roles are changing, and new skills are required. In my opinion, a unique combination of conventional methods and new skills is needed. This leads to a very diverse skill set including real-time animation, technical support, video I/O, and stage skills. Since much of the work in virtual production involves real-time game engine software, knowledge of Unreal Engine is undoubtedly an advantage. VP will remain and change the media production landscape. So I think one of the most important skills is to stay flexible and adaptable to evolve with the VP roles.
Once you've got the right skills and qualifications, where can you find jobs in the industry?
There are plenty of exciting job opportunities in creative studios, broadcasters, production companies, streaming services, or VP studios. But unfortunately, all of them are lacking talent with VP expertise. For those who want to work in the film and TV industry, there is plenty of opportunity in the VP field. This is the perfect time to specialize in VP and have great job prospects in different work environments.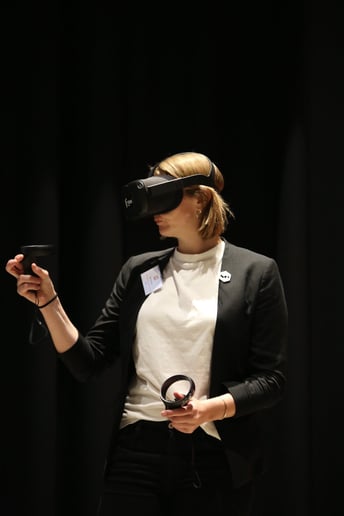 What do you hope to see in the future of immersive media and real-time graphics?
I hope that we will be able to equip the students with the necessary knowledge and expertise to overcome the shortage of high-quality, skilled professionals in the industry. I also hope that the concern about the disappearance of traditional methods and roles will subside and that we will be open to the exciting possibilities of an evolving industry.
We can expect VP roles to be more clearly defined in the future so that graduates can enter the job market with confidence. We aim to support them in this by bringing them closer to the industry's wealth of opportunities even before they graduate. We want to spark creativity, where students can gain access to innovative tools they will actually use while gaining the confidence they need for the next steps in their careers.
Personally, I am very excited about the future of immersive media: they offer brand-new storytelling possibilities. I'm very grateful to be a part of moving this industry forward. If you are interested in learning more about our Pixotope Education Program, I am here to help.
You can get in touch with me here.