Pixotope Snapshot is our series shining a light on the many talented individuals that make the Pixotope team so great – a group of industry experts with vast experience in virtual production. This time we interviewed our Creative Engineer Patrick Ford, who happens to be an Emmy-award-winning producer for the live coverage of Election Night in America in 2012.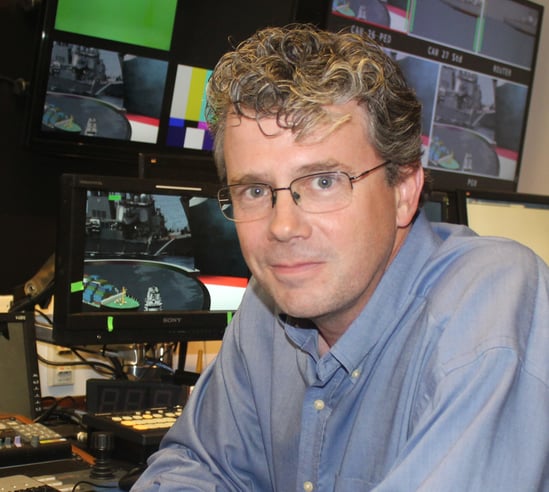 Tell us about your career and background leading up to Pixotope?
I was fortunate to take a video production class in high school. After months of petitioning, I finally convinced my parents of the absolute need for a Commodore64 (still have it). With it, I learned all about how to be sleep-deprived and created ASCII animations and fancy scrolling credits for my videos. I almost got held back from graduation senior year on account of truancy, were it not for a letter from the Dean of NYU Film School explaining my involvement with several student film productions and time spent auditing classes there.
When I should have been in college, I was working variously as a director, camera op, & editor. I had the pleasure to work with an increasingly advanced array of 3D applications for post-production and animation. For nearly a decade, I established my own production company – creating everything from molecular animations for patent proceedings, to synchronized multi-screen eye-candy programs for trade shows like NAB & CES.
In 2008, I took a position with Vizrt, initially as an operator at a virtual studio at the New York Stock Exchange. It was a perfect fit for my video/computer brain. Then, after about 5 years of installing, calibrating, and maintaining virtual production environments, I took on the role of Producer, and later Senior Producer at CNN in Washington, DC. There we applied a virtual studio, augmented graphics, and touch-screen interactivity to daily live broadcasts, earning a National Emmy right out of the gate.
During the Covid shutdown, I spent a lot of time in my old tobacco barn. Aside from learning to chainsaw carve (sort of), I converted one area into a fully WATL-compliant axe-throwing lane. Then, while exploring some free photogrammetry software (Meshroom) and having time to take a crack at Blender & Unreal Engine, I decided to start simple and made a VR axe-throwing simulator.

You've been working with virtual sets and AR graphics for over 15 years. How have you seen the virtual production industry evolve during this period?

Reliability, (both real & imagined) has improved dramatically as a result of incredible development. I cannot tip my hat sufficiently to the developers that make all those fantastic things available to an artist. Improvements to image quality and ease of use have made virtual production an increasingly viable option.
When I first began working in "Virtual Production" I can recall more than one crew/company, that when prompted with a virtual production opportunity, the responsibility was assigned internally to a particular crew member because the default expectation was one of failure. Initially, of course, these projects were more complex to set up and the available technology was far more limiting. If the planning or expectations were not properly established, headaches ensued. This still applies, of course. Fix it in Pre.
In 2012 I went on the road for CNN setting up AR for remote live production at the National Political Conventions. That was my first week on the job, and I felt like a virtual graphics ambassador, not just there to get the stuff to work, but also to educate the decisions and navigate the production demands and internal politics to successfully get our stuff to air. These were the most competent & experienced crews, but it was like a new language for almost everyone.
Nowadays (generally anyway), there is much more formula applied to the process, and it can be less of an experiment because so much has been proven. The advances in real-time rendering and the simplification of camera tracking & compositing have increased the acceptance rate, and each success expands future adoption. It is a bankable trend, as evidenced by numerous activations (the Carolina Panthers comes to mind) that are followed by a measurable escalation of interest, activity, and even copycat production. All that said, there is currently no casting that makes this process turn-key. The whole environment is built on experimentation and the expansion of ideas, so I don't expect that to change anytime soon.


What does your day-to-day look like as a Creative Engineer?

In my home office, I have multiple Pixotope engines and a PTZ camera setup as a lab for troubleshooting customer issues and testing early releases. My average day consists of a few meetings (virtually!), engaging with customers through our help desk, pestering the development team, and always learning something new. I especially enjoy any opportunity to be on-set. While it's gratifying if I can help out in person or remotely, every challenging production results with learning & growth.
This may be considered a specialty field, but my approach, born from my background, has always been holistic. The essence of this work requires the coordination of multiple disciplines. I am not so much a specialist in any of them, but I do have the knowledge and respect to balance the priorities of each. Supporting software that is on a machine connected to and relying on a potential myriad of devices and other software can get murky.
I have always had a hard time telling a neighbor what I do for a living.


Why do you think broadcasters are moving towards virtual production workflows?


Versatility.



What does the future hold for virtual production?

If you are still reading this, then you are aware of the recent surge in XR for cinema & advertising. Picture: Venn diagram with "Accessibility" & "Complexity" ballooning into each other. Continued expansion of bespoke integrations and massive interactivity will position the virtual production environment as one interactive branch of a much larger ecosystem, sharing assets with numerous as-of-yet-unknown applications aligned with sports, shopping, entertainment, news, etc.


What is the most unique aspect of Pixotope in the virtual production industry?
Doy! it's the people. I know that's the usual BS response, but I mean it. Even the ones no longer here, and those yet to join. The bold efforts made in the early days of this company inspired others as I did myself, and the continued effort that I currently get to witness firsthand (I do my best to contribute) is certain to inspire even more people with the same motivation. This rewards the development of Pixotope, but most importantly it improves the creative experience for an expanding user base.