As outlined in our previous blog, "Where to find jobs in VP," there's a high demand for talented professionals to join the exciting and fast-paced creative sector. However, while there are so many roles on offer in virtual production (VP), getting started can feel overwhelming–not only for graduates but also for professionals considering a career in the field.
Carina Schoo, our Education Program Manager, shares her advice on how to find a job in virtual production and break into the industry.
1. Learn the basics
VP is now ingrained in the media ecosystem, and you can expect to learn the basics in 'media production' courses across global universities and other educational establishments. Having the basic VP skills under your belt, will help significantly when looking for virtual production jobs. There is more than one route into VP, so filmmaking and production schools are also highly recommended. In our Pixotope Education Program, we advocate having general media production knowledge, as well as sector-specific skills, so you can better understand the whole media landscape. With an increasing demand for people with VP skills, many companies now take a proactive approach to education to attract talent by offering free online training modules, workshops, webinars, and stripped-down software versions or trial licenses.
2. Experiment
Once you've grasped the basics, the best way of furthering your skills is to get your hands on the tools and experiment. Familiarize yourself with different systems and workflows, such as Unreal Engine, who offer extensive courses and training. Finding one specific tool and becoming an expert is also a good route into many jobs.
From there, you can start building your portfolio, such as a showreel and certifications for VP tools.
3. Take the first steps
There are many pathways into a virtual production job and career. One approach involves looking for internships, apprenticeships, or assistant-level roles at companies in the various industry sectors we've outlined.
A number of parallel industries can also lead to a virtual production career, depending on your interest and specialisms. As well as film and TV production or live event and stage jobs, you could also gain virtual production experience in areas such as game development, VFX, 3D animation, and even IT, such as quality control testing for tools and software. In addition, technical experience in camera tracking, lighting, projection, LED display, and motion capture would be highly advantageous.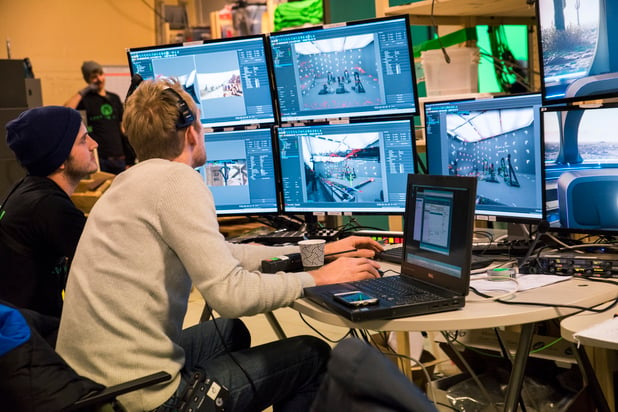 As a higher education institution, what can we do to prepare our students for careers in virtual production?
The Pixotope Education Program offers guidance on how higher education institutions can prepare students for a career in virtual production. These revolve around empowering student creativity, practicing with tools, and connecting with the industry.
•

Understand that the VP market has evolved dramatically as tools have developed further in the past few years. This market maturity means that students may be less technically minded and more artistically driven. Therefore, the tools can act as gateways for creativity, empowering students to think outside the box.

•

In this vein, while creativity is the crux of VP, understanding the tools is vital. Give students access and allow them to get to grips with tools such as Unreal Engine, Pixotope, and Unity.

•

Connect with the industry: open up networking opportunities, and show students what jobs they can get and where they might be available.
For more information on taking your first step into a virtual production career or how your educational institute can support students in learning VP skills, visit our Pixotope Education Program page.