Virtual production (VP) blends traditional methods and contemporary skills across media production – and that's why it's the perfect career for anyone interested in entertainment, broadcasting, or live events. It's also the ideal time to join this field as the VP industry is expected to reach $5.4 billion by 2026, generating plenty of talent demand to fulfill this growth. However, knowing where to look for these new job opportunities in virtual production can be challenging.
Kevin Cooney, Creative Director of virtual production company The Level recently commented that "the industry is moving at such a rapid pace that it's difficult to find talent who can creatively problem-solve. We can build as many virtual production studios as we want but without the creative talent behind them, we're at a massive disadvantage."
In light of this, it is essential to highlight and educate prospective VP professionals on how to land their dream roles. We want to help you kickstart your career in virtual production – keep reading for a deep dive into the type of employers currently hiring a variety of VP professionals and their most demanded roles. For a more in-depth outline of what types of roles are on offer, read our latest Newscast feature, "New roles in VP and where to find them."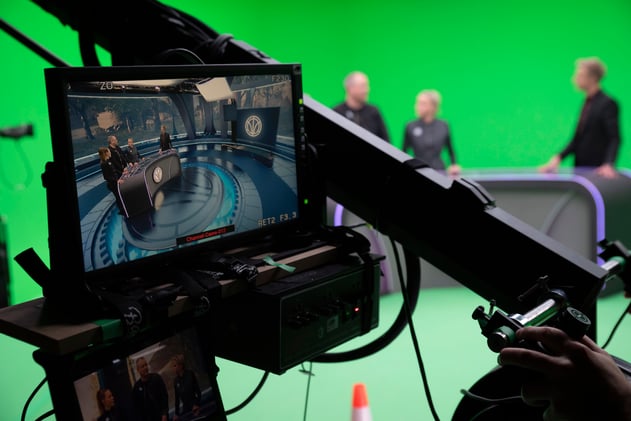 What industry sectors are looking for graduates in virtual production?
Nearly all companies involved in media production are now looking to hire professionals in the virtual production field. This is because VP is increasingly becoming necessary for any production workflow. So let's take a look at some of the places where you could implement your VP knowledge:
Creative Studios
Creative studios, such as Silver Spoon Animation, often use XR stages (or LED volumes) for entertainment (such as those used in the US augmented reality talent show Alter Ego) and commercials. Other creative studios, such as The Famous Group, are more involved in using VP for live event production, be it sports, concerts, or esports tournaments. Another creative industry that has seen a massive rise in VP is advertising.
A great example of virtual production is one of the NFL's mixed reality campaign "Real Food for Real Athletes" in which Chipotle-branded Zamboni brought out a giant burrito bowl and fork to the middle of the ice rink.
These studios are not short of virtual production roles so if you're interested in using innovative technologies in theater or creating extraordinary AV experiences at live events, this could be the sector for you.
Broadcast
If you're interested in staying at the cutting-edge, fast-paced side of VP, the live broadcast might be the best option. With a focus on delivering engaging and innovative content, news and sports broadcasts are at the forefront of VP innovation.
In this industry, you can expect to use a wide range of VP techniques, including AR, XR, and Virtual Studios. You can also expect to work on some incredible productions and live events, including The Super Bowl, using your VP skills to create memorable XR experiences before a live stadium! Some top players currently hiring are FOX Sports and BBC Sport. Local and national news channels across the globe are also seeking skilled VP professionals, making it possible to work anywhere in the world. Plenty of local stations are adopting VP workflows, such as VideoReport Canarias, French broadcaster TF1 along with many others.
Production companies and streaming services
VP skills will also open doors if you are more driven toward filmmaking and episodic content. Production companies and streaming services, like Disney and Netflix, use LED volumes for blockbuster films and TV shows, such as The Mandalorian and Stranger Things.
Independent creators (Twitch, YouTube)
As VP tools become more accessible, independent content creators have also been empowered to deliver high-quality graphics to their channels and streams. By leveraging real-time game engine technology, creators can adopt VP workflows to produce YouTube series, or live stream content, to take their content to the next level. This is a unique and exciting career path for those who wish to experiment creatively with VP.
Virtual Production Stages
If you want to immerse yourself in all aspects of VP, there are many independent creative VP stages where you can put your skills to good use. Working in a VP stage would work best for those with a creative flair and flexibility as you must constantly adapt to the type of production you are working on: from commercials, live streams, and events to film and TV. Studios such as Vu and XR New York elevate productions by offering producers access to stages with cutting-edge technology such as LED volumes, real-time in-camera VFX rendering, and consulting services.
These VP studios seek creative and diverse individuals to add to their repertoire. If you are confident in all aspects of VP and want to gain experience across all verticals, working at a VP studio could be your best bet.
Conclusion
As the industry continues to evolve, we will continue to see a range of exciting job openings. For those interested in creative media and immersive technologies, it is the perfect time to take the leap into virtual production as emerging roles are in high demand across various sectors.
Now that you know where to look for virtual production jobs, read our blog featuring advice on how to break into the virtual production industry.